Vehicle tracking and telematics: What's the difference?
You may have found yourself wondering what the difference is between telematics and vehicle tracking. Both terms seem like they should be interchangeable… but are they?
Telematics originates from the French word télématique. It was coined in 1978 and comes from combining the French words for telecommunications and computing science. It's defined as the "convergence of telecommunications and information processing."
Telematics brings together fields of telecommunications, vehicular technologies, road transportation, road safety, wireless communications and computer science.
Vehicle tracking is just one smart technology that falls under the general umbrella of telematics, along with GPS navigation and a whole host of others.
The history of vehicle tracking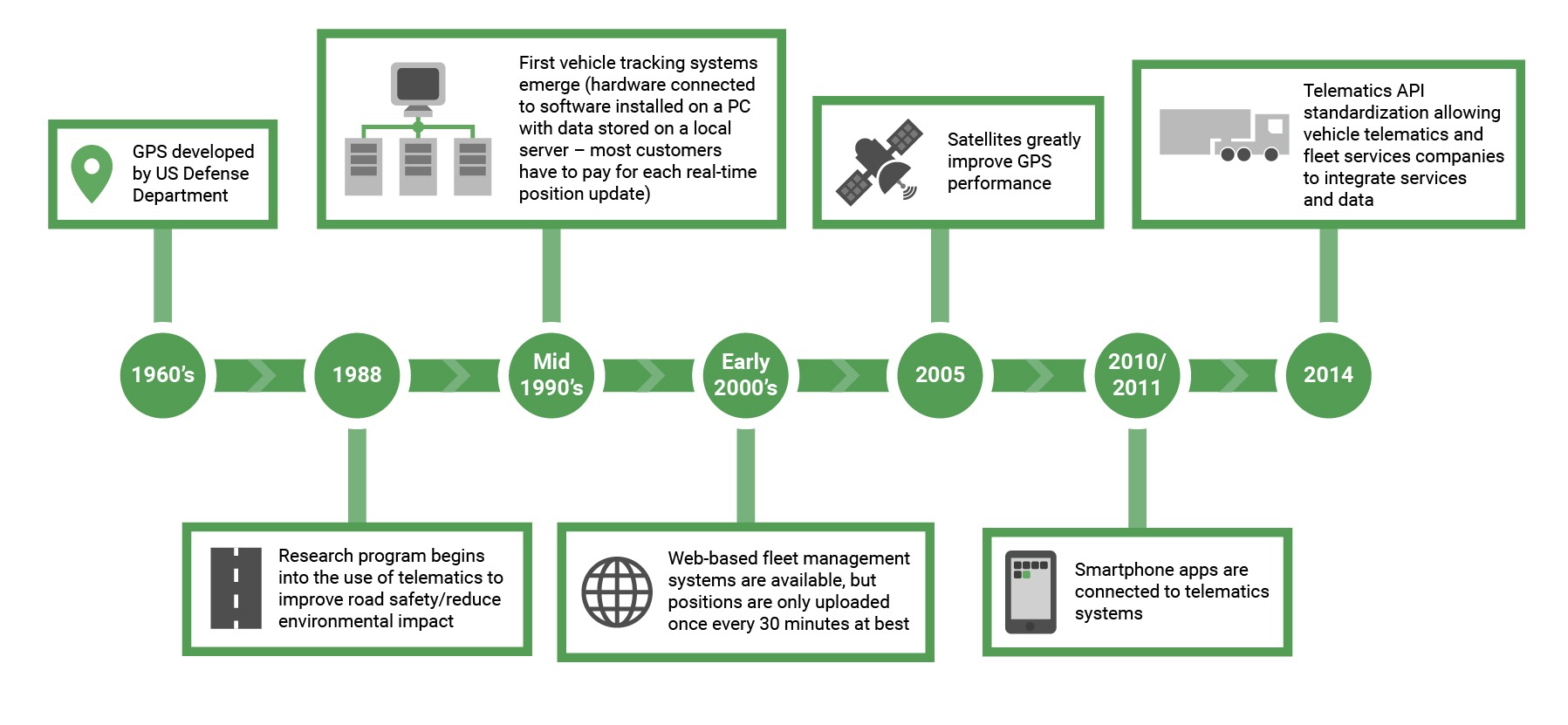 The technology that makes vehicle tracking possible was first developed in the 1960s by the US Defense Department. In the late 1980s, civilian research into using telematics to improve road safety and reduce environmental impact began.
Owing to that research, in the mid-1990s the first vehicle tracking systems emerged and by the early 2000s, web-based fleet management systems were available to organizations. In 2010, smartphone apps were developed to link real-time information with mobile phones and tablets, making it even easier to get information instantaneously.
How is telematics used for vehicle tracking?
Telematics devices, including tracking units, are made up of several essential parts:
GPS receiver: Gets location information from the GPS satellite
Engine interface: Transforms and routes messages from the GPS
Sim card: Broadcasts GPS data to the main server via the mobile network
Accelerometer: Senses and records driving style and crash impact data
Battery voltage sensor: Detects unit tampering
It's not a complicated process, but getting telematics data does require a lot of technology working together in unison:
Location data is collected by GPS satellites and transmitted to the vehicle's tracking unit
The engine interface translates it and adds data from the accelerometer and the battery voltage sensor
Via the unit's sim card which "speaks" to the mobile network, the information is sent to the server
The server formats the data and makes it available through an online application
What are the benefits of vehicle tracking?
The real-time tracking and suite of tools available through telematics make managing a mobile workforce more efficient. Vehicle tracking features include, but aren't limited to:
A company can save a lot of money by examining the routes that a vehicle took in a day and how much time was spent travelling. These key factors, when streamlined, lead to better productivity. And the information is all available to businesses that have installed telematics! Read a selection of vehicle tracking success stories here.
The benefits of vehicle tracking eventually trickle down to a business's customers:
More accurate arrival and cost estimates
Faster emergency response by properly equipped trucks
More precise billing
What about fleet management?
Telematics technology can do more than just provide real-time tracking; it's also become equally important in the management of a safe and efficient fleet. The same tracking unit that can provide live location data can also record and deliver the following:
Driver behavior analysis: The unit's accelerometer reports on the vehicle's driving style, factoring in speed, acceleration and braking, which are a good indicator of how much risk employees are taking.
Vehicle maintenance alerts: Using telematics and odometer readings, milestones such as inspections, insurance and registration renewals and service due dates can be scheduled, and alerts sent to make sure no vital deadlines are missed.
Timesheets: Total mileage, driving hours and idling time can easily be seen over a specified time period, eliminating any unauthorised fuel claims.
The future of telematics
There is no limit to what will be possible through telematics technology in the future. If the past ten years of growth in the industry are an indication, even more mobile workforces, of all shapes and sizes, will realize the enormous benefits that can be reaped from vehicle tracking.
The capability of a vehicle tracking system is expanding every day, and features that seemed far away only a few years ago are now right around the corner. There has never been a better time to get on board with telematics.
The Quartix difference
We marry the latest GPS technology and mobile communication with a system that can compute real-time events in about 60 microseconds (or 0.00006 seconds) to make your telematics data both accurate and fast. Quartix customers can rely on a system that is user-friendly, cost-effective, and backed by 17 years of operating experience in the telematics and vehicle tracking industry.