The harmful effects of dangerous driving behaviours are well-documented. Accidents are more likely to occur when drivers are speeding, and more accidents happen on low speed roads. 
Government data for recent years shows that approximately half of all vehicles exceeded the speed limit on 30 mph roads with a tendency to do so when those roads were quieter. When asked their reason for breaking the speed limit on these roads, most drivers cited matching the speed of other drivers on the road or believing the limit is too low, a mindset that can have terrible consequences.*
Many companies invest in a vehicle tracking system with one of their goals being the reduction of speeding incidents within their fleet. It helps to put together a company speeding policy for employees to explain the company's concerns and outline their expectations for each employee, regarding speeding and general driving behaviour.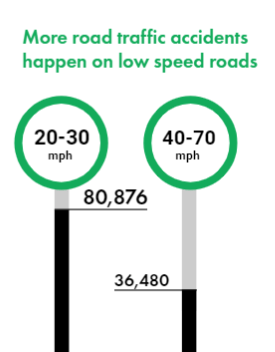 It's your responsibility to reduce the risk of accidents by monitoring your fleet's driving style. Creating a company speeding policy and using vehicle tracking to help you enforce it is a great first step.
In this article, we'll explore the many ways a vehicle tracking system can:
The impact of speeding on your company
Speeding can negatively affect your company across the board. Even a single incident of speeding can result in: 
Over time, multiple instances of speeding can result in: 
The benefits of reducing speeding
A concerted effort to reduce incidences of speeding can bring great benefits to your company, such as: 
Having and enforcing a company speeding policy can only benefit your business, but how can vehicle tracking help?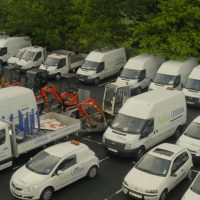 "Vehicle tracking is instrumental in ensuring driver speed and behaviour can be assessed."
Lisa Kerford
Aptus Utilities 
Using vehicle tracking to ensure adherence to your speeding policy
A vehicle tracking system has many tools and reports that can give you insight into how your vehicles are being driven. It's this knowledge that will allow you to enforce your company speeding policy.  
With a vehicle tracking system, you can spot drivers who exceed a certain speed. At Quartix, this capability comes through our speed analysis report, which can be run for any time period over the previous twelve months or set up to be automatically emailed to you.  You will be able to instantly identify drivers who have gone over a speed threshold and can take action, according to the terms of your company speeding policy. 
The Quartix vehicle tracking system also assigns drivers a daily speed score based on their driving performance, of which speed is a factor. These scores are colour-coded and make it easy for you to see who is driving well and who needs coaching. 
The driving style league table is also a useful tool for looking at driver performance across your entire fleet. Drivers with low scores stand out on the league table, meaning you can easily identify which drivers need the most attention. It's a good idea to look for correlation between those drivers with low scores and high amounts of vehicle maintenance or excessive fuel costs.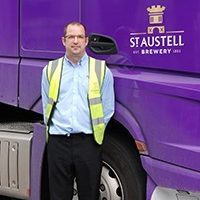 "We've seen around a 20% improvement in driving style across the fleet. Since using Quartix, our drivers are now in the 80-100 driving score range, which is where we wanted to be. We're doing daily briefings with the drivers and they can easily see how their driving style has improved."
Karl Davidson
St Austell Brewery
How can you use this information to coach drivers?
If a driver has violated your company speeding policy, it's better for your business, the general public and the driver themselves that you take action right away.  "Anyone going a mile over the speed limit is breaking the law, so we are serious about looking at speeding. But we correlate to it to driving time, too–was it an instance of over-taking or were they speeding consistently? The absolute key to this is data, making sure we have reliable data from our vehicle tracking system." – Jerry Hughes, TXM Plant Hire Ltd 
Many Quartix customers have established incentive schemes to encourage good driving and will resort to discipline for extreme cases, where a driver and the public are in immediate danger. Regular reviews are another way to use the information from your vehicle tracking system to inform your drivers of their performance. With Quartix, your drivers can even be given access to the Quartix mobile app, to monitor their driving scores themselves. "We just show drivers their reports – tell them if they're braking too hard or going too fast. Usually once they're aware and they know we're paying attention to it, it stops." – Jack Armstrong, SS Landscaping 
With a company speeding policy backed by informative data from a vehicle tracking system, you will have all the tools you need to coach your drivers into better driving behaviours and avoid the consequences that speeding can have on your business.   
*gov.uk/government/statistical-data-sets/road-traffic-statistics-tra and Department for Transport Vehicle Speed Compliance Statistics, Great Britain: 2019