The impact of speeding on your company
Speeding can negatively affect your company across the board. Even a single incident of speeding can result in:
Fines – Speeding tickets, especially speeding that results in an accident, can accumulate huge expenses for your company.

Damage to your brand reputation – Any vehicle that bears your logo is representing and advertising your company and speeding is a negative reflection on your business.
Over time, multiple instances of speeding can result in:
Vehicle wear and tear – Harsh breaking and acceleration that accompany excessive speeding can wear down your tyres and put unnecessary strain on your vehicle's systems.

Driving bans – Should any of your drivers lose their licence, you could see lost wages, contracts and customers.

Excessive fuel expenses which affect your bottom line.
The benefits of reducing speeding
A concerted effort to reduce incidences of speeding can bring great benefits to your company, such as:
Protecting your drivers by mitigating risk and reducing the chances of accidents.

A better company reputation due to improved driving styles and positive interactions with other motorists.

Improving customer satisfaction by reducing delays due to driver/vehicle downtime.

Measurable cost savings from: less wasted fuel through eco-driving techniques, reduced vehicle repair costs, minimal vehicle downtime and improved productivity, fewer speeding fines and a reduction in insurance premiums.
Having and enforcing a company speeding policy can only benefit your business, but how can vehicle tracking help?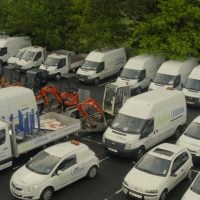 "Vehicle tracking is instrumental in ensuring driver speed and behaviour can be assessed."
Using vehicle tracking to ensure adherence to your speeding policy
"We've seen around a 20% improvement in driving style across the fleet. Since using Quartix, our drivers are now in the 80-100 driving score range, which is where we wanted to be. We're doing daily briefings with the drivers and they can easily see how their driving style has improved."
How can you use this information to coach drivers?
With a company speeding policy backed by informative data from a vehicle tracking system, you will have all the tools you need to coach your drivers into better driving behaviours and avoid the consequences that speeding can have on your business.
*gov.uk/government/statistical-data-sets/road-traffic-statistics-tra and Department for Transport Vehicle Speed Compliance Statistics, Great Britain: 2019