Quartix, one of the leading global suppliers of subscription-based vehicle tracking systems, is pleased to report positive H1 results and that the business is on track to meet its 2020 financial expectations overall. Prior to the challenges that the national lockdowns have presented, the company's new vehicle subscriptions for January and February were 30% ahead of 2019. Quartix has published its 2020 H1 interim results, together with accompanying presentations on its website at quartix.com/investors. The Quartix Board is pleased to confirm it generated £3.2 million free cash flow, leaving the business on track for 2020.  
Inevitably, March-April saw new subscriptions reduce, resulting in a 14% reduction in new subscriptions in H1. However, since April there has been month-on-month recovery, and far better prospects for the rest of the year. The graph below shows the impact that Covid-19 had on Quartix UK customer fleets specifically, and the distances collectively travelled during recent months.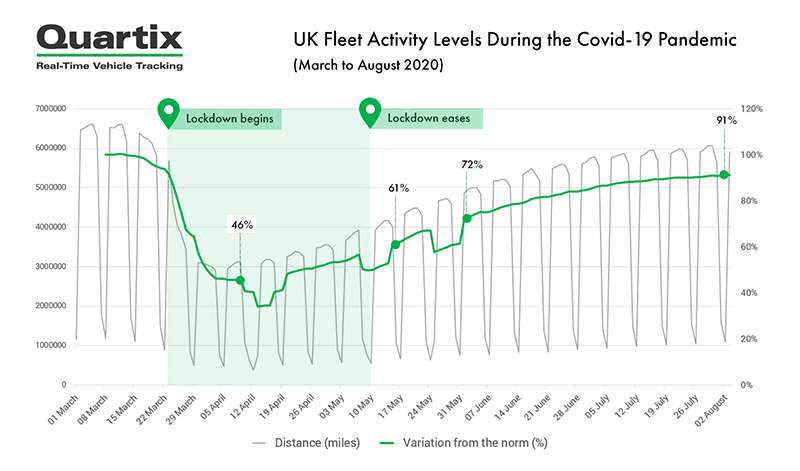 Despite the year's events, UK customer numbers are still 3% higher than 31 December 2019 and active vehicle subscriptions are 4% higher. In this time, the number of Quartix customers in France and the US have risen by 12% and 9% respectively, despite contractions in the volume of new subscriptions during the pandemic. 
In newer territories, namely Italy, Spain, Poland and Germany, Quartix saw new subscriptions quadruple from 315 new subscriptions gained in H1 2019 to 1,229 in H1 2020. This leaves the business' total subscription base in these countries at over 2,500 units, and with an impressive 85% increase in customers in these markets.  
"We are very proud of these results," says Andy Walters, CEO of Quartix. "Quartix has navigated the pandemic admirably and kept on track, which is a great testament to our teams and our customer relationships. We continue to explore technological developments and invest in our fleet tracking system. It's a tremendous relief that the recent events haven't deterred us from achieving great things in 2020." 
Quartix has continued to invest in its software and telematics technology. During Covid-19, Quartix saw an increase in customer preference for self-installed devices across all geographical regions, giving customers increased flexibility on where and when installations take place.  
The company's continued drive to grow reseller channels also started to see early success in the US and Spain, which has been supported by the development of a partner resources web portal.