Dashboards
Quartix does the hard work of analyzing your data and generating simple reports. Everything can be accessed on the web. The Quartix tracking system includes a wide range of vehicle tracking reports and dashboards to improve vehicle operations and utilization.
Choose how you view your fleet's activities in real-time. Each element of the report can be tailored to specific needs. For some components, a utilization target can be set, with the option to show an alert if that target has not been met by a certain time.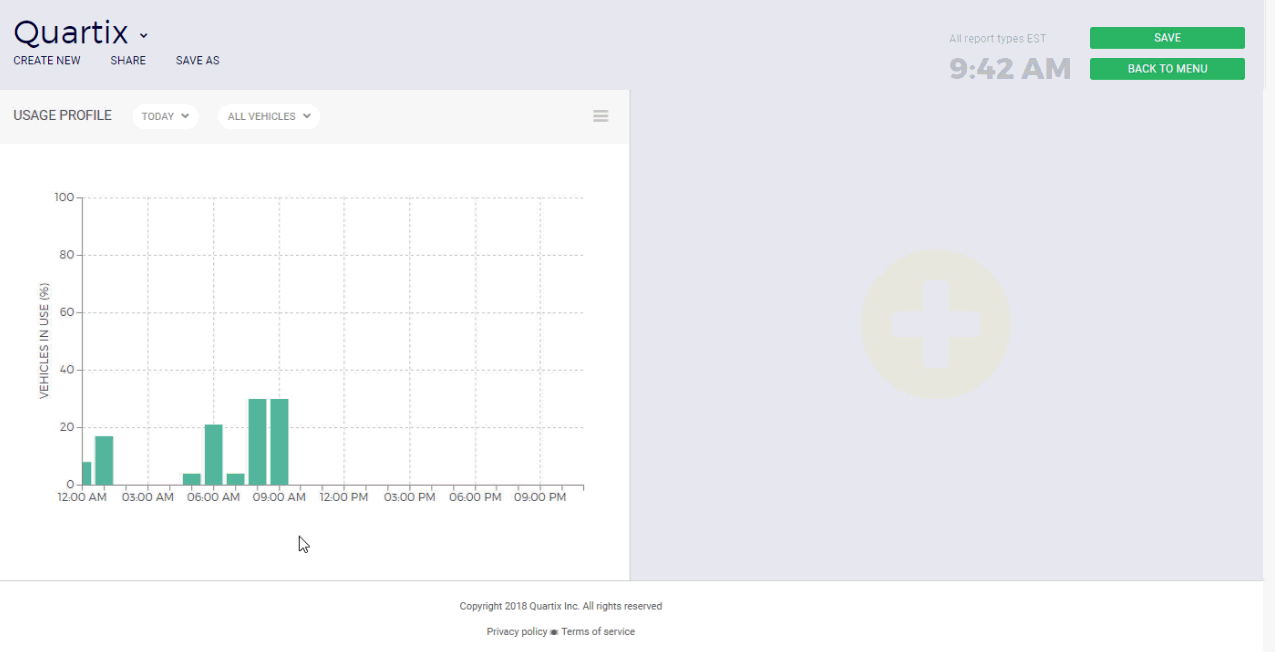 Quartix provides a number of management tools allowing you to optimize fleet utilization and improve planning of future jobs.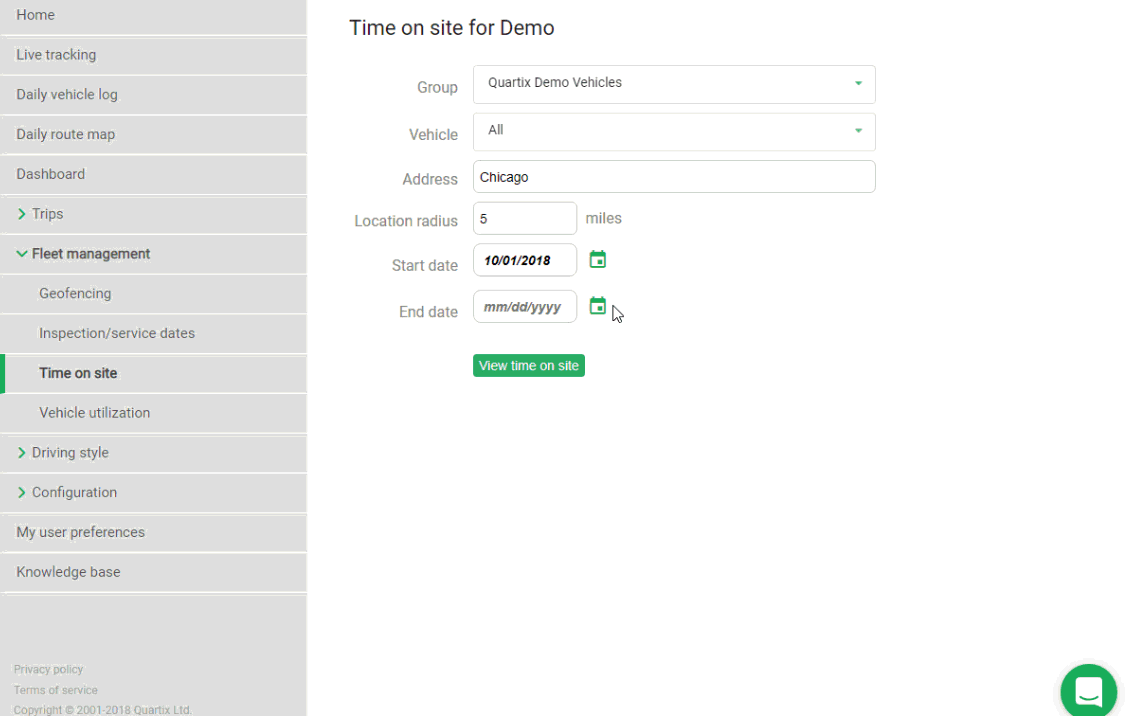 Check "time on site"
Its easy to check how long your crew was on site so you can better analyze the cost of each job.
With the Quartix time-on-site reports, you can pick a location and compile a report with each of your vehicles that have visited that site in the chosen period, showing the time spent there.
Vehicle management
Never miss the important deadlines for vehicle services, inspections and insurance renewals. The Quartix vehicle tracking system enables you to record all important milestones and reminders.
You simply enter the vehicle odometer reading and key milestones for all your vehicles. The Quartix vehicle tracking system then accumulates the mileage from that date and will highlight when the vehicle needs servicing. The full fleet report can be viewed online so you can easily see which vehicles are due for a service or MOT.
Quartix MOT reports include engine hours data, offering greater insight into precisely how long a Quartix-tracked vehicle or asset has been running over a given date range. Knowing exactly how long your vehicles and machinery have been in use can be vital information in ensuring maintenance schedules and health & safety regulations are met.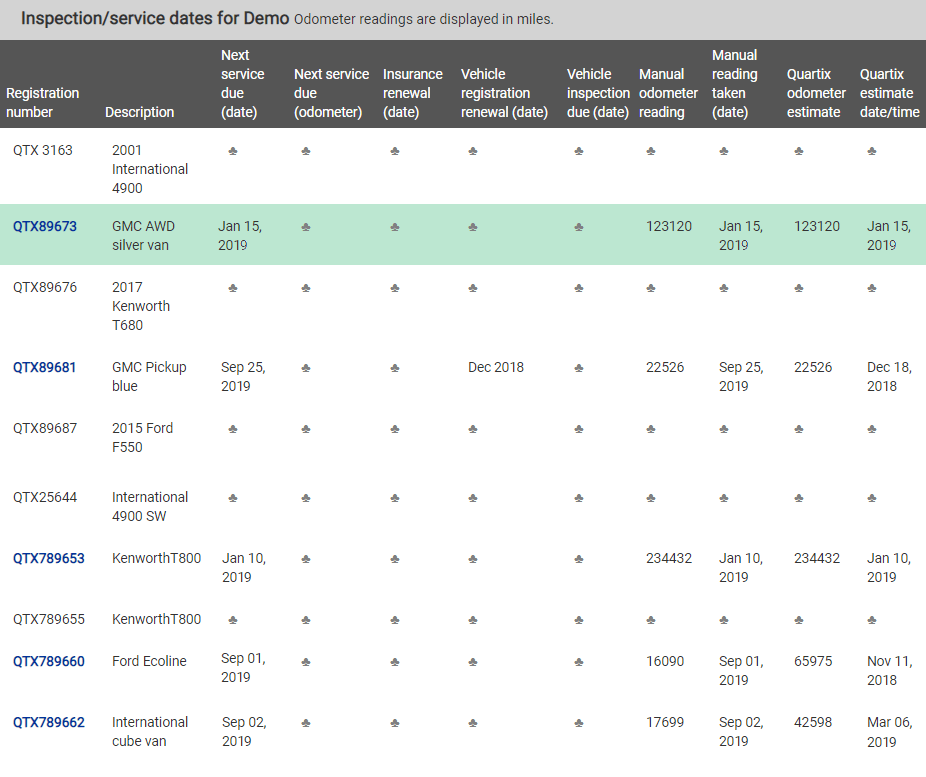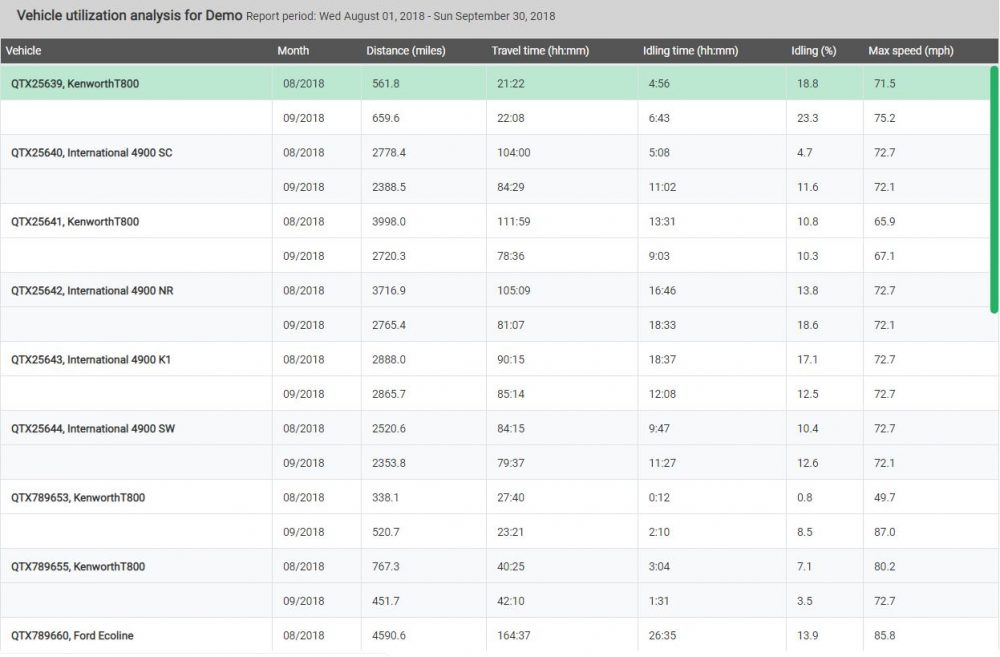 Vehicle utilization analysis
You might have a policy in place for when you want to replace your old vehicles, or maybe you're thinking about adding more vehicles to your fleet. The Quartix vehicle utilization report is a powerful tool to generate a more accurate analysis and forecast of your fleet usage. This can identify vehicles that are under-utilized, not in use or where space capacity can delay the need for additional vehicles. The report shows:
Miles traveled per time period
Travel time
Idling time
Idling %
Max speed
Monthly mileage report
If you need to run a total monthly mileage report for all your fleet, or a group of vehicles, the data can be exported to Excel or emailed on a weekly basis. Reports can include or exclude private mileage per day, week or month, depending on whether you want to report on taxable benefits or overall vehicle utilization.