Quartix wishes to congratulate Nick Georgelos, owner of Geo Contracting of Girdwood Alaska, who has won Equipment World's 2019 Contractor's Dream Package sweepstake.
The New York native was a little hesitant at first when he found out that he was the winner. "To be honest, I was a little shocked. I was like… is this for real?" Nick commented. He said, "I really never thought I had a chance of winning."
Nick and his wife Lauren specialize in all types of civil engineering and excavation work in the Anchorage area, as well as, state and federal work in all parts of Alaska. Nick stated, "All of this equipment will be put to immediate use by me and my crew and we appreciate the sponsors for their generosity."
Launched in 1999 by publisher Randall-Reilly, Equipment World's Contractor's Dream Package sweepstakes is marketed extensively through print, online, email advertising and industry tradeshows. It's the only program of its kind that enables supporters, like Quartix, to promote their products, complement traditional advertising and give back to the industry by making a fortunate contractor's dream come true. For the past 20 years, one lucky contractor like Nick has won a package of top-of-the line equipment and supplies to help grow their business.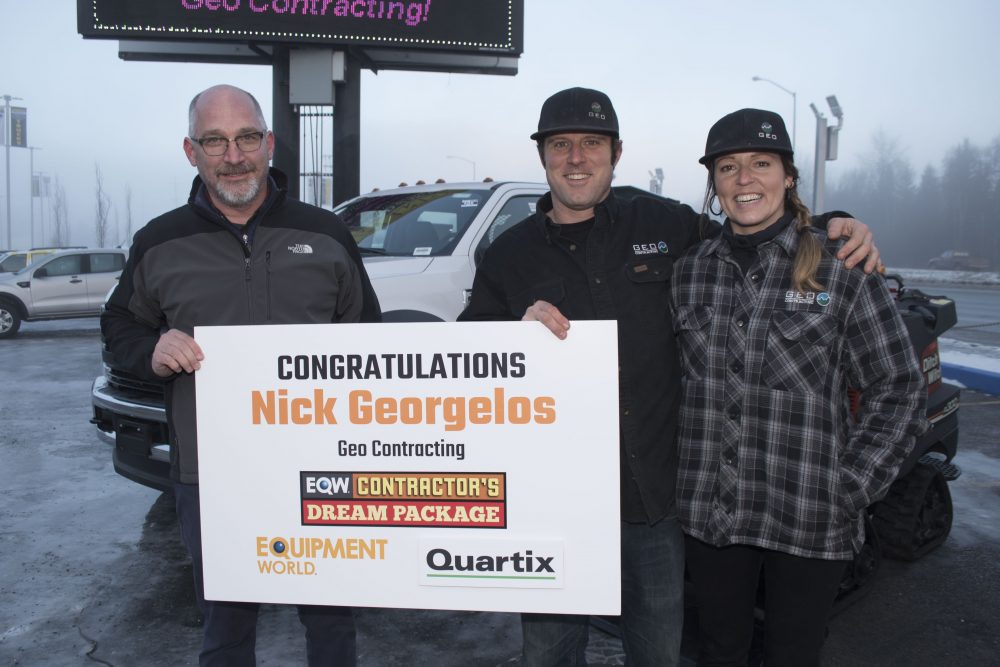 For more information about Equipment World and Randall-Reilly, visit their website: www.randallreilly.com.