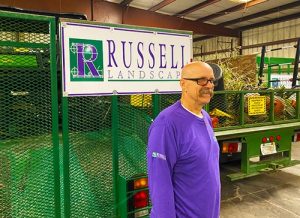 "The service is impeccable. The people we work with at Quartix have been invaluable. We would absolutely recommend Quartix."
Started in 1987, Russell Landscape is a family-owned, full-service landscaping, lawn maintenance, and irrigation business based in Georgia, Florida, South Carolina and Tennessee. They employ approximately 450 people and their 200+ fleet is comprised of trucks and vans. Everyone one of their vehicles are tracked by Quartix, including some of their mowing equipment.
Will Dutton, General Manager, sat down with Quartix at their Ruskin, Florida branch office, to talk about their experience with the Quartix system.
24/7 fleet visibility
Before signing with Quartix, Russell Landscape had an unsophisticated tracking system in place. "We basically had it for Geofencing," Will recalls. "But we needed to track where every penny was going."
He goes on, "We also needed a training tool for drivers, so we could reduce wear and tear on our vehicles and start to bring down our costs."
Will found what he and Russell Landscape needed in the Quartix system.
"My favorite feature is live tracking, which lets us see where everyone is during the day," Will says. "We can map out the best routes for our drivers and keep track of them."
Quartix tracking doesn't require any additional software, as everything can be accessed over the web or through our mobile app. Google-backed maps let you access your vehicle and driver information, 24/7, with the additional benefit of live traffic information and satellite and street view options.
Monitoring driver behavior
For a business such as Russell Landscape, with hundreds of vehicles spread out through multiple states, visibility in terms of the physical location of each vehicle is paramount, but it's also extremely important that Will is always aware of how his drivers are behaving on the road.
"I love Quartix's driving style reports," he says. "I know right away who is speeding and I can quickly correct bad driving behavior."
Quartix has a suite of driving style reports that have been designed to give you accurate, insightful information on speeding, harsh braking and excessive acceleration, all of which, if monitored and reduced, could lead to significant savings on fuel and maintenance. Each driver is given a score that takes those three criteria into account, looking at their driving performance as a whole.
For example, with the ability to schedule driving style reports, Will can receive our speed analysis report monthly, weekly or even daily, at an email address of his choosing.
"The Quartix reports go straight to me and then to our branch managers, who review them and find problem areas," Will says. "Then they decide if the driver in question needs some training or if it's something to be disciplined. That's why it's so important that we get good data from Quartix. And we've found that it's really accurate."
"We use the league chart to see how our drivers rank against each other," he continues. Quartix's driving style league chart lists the driving scores of each vehicle or driver across the whole fleet or in a pre-established group. Drivers with good scores will appear in green, while drivers who have displayed risking driving behaviors will appear in red. It's a very easy way to see who deserves praise or rewards and who needs more attention in the form of further training. "We have noticed a big decrease in driving offenses," Will says. This will ultimately mean that Russell Landscape's vehicles are safer on the roads and are at less risk of preventable accidents or speeding tickets, both of which could severely cost the company.
Driver benefits
By eliminating costs from excessive fuel expenditure and maintenance repairs, the entire company can see the benefits of vehicle tracking in Russell Landscape's bottom line. Everyone, including the drivers, reaps those rewards.
"The culture of our company is very important to us," Will says. "We work hard to cultivate it because we are a family business. So, bringing the Quartix system into play wasn't a shock to our drivers, because we presented it as a savings tool. Those savings are seen by our drivers through our profit-sharing program. If we have expensive accidents and speed incidents, that limits our returns and, therefore, limits their compensation."
"I love Quartix's driving style reports. I know right away who is speeding and I can quickly correct bad driving behavior."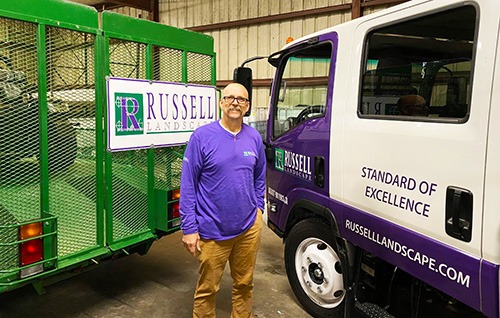 The Quartix difference
When it comes to Quartix's customer service, Will has no complaints.
"The system is very user-friendly," he stresses, "and installation was easy. We have OBD and hardwired units. Quartix sent engineers out and it was a very smooth process."
"I feel that the service is impeccable," he says, going on to mention Quartix's dedicated support email and quick response time when questions are raised. "The people we work with at Quartix have been invaluable. If they didn't have the answers right away, they found them, and that's vital for any business. To be able to say 'maybe we don't know right now, but we will find out.'"
"We would absolutely recommend Quartix," Will says. "Even if all we got was just GPS data, the system would be worth it."