We are thrilled to announce our participation at World of Concrete 2024, a pinnacle gathering for the construction industry. With innovation at its core, World of Concrete is the perfect platform for us to showcase our top-rated fleet tracking solution with an established track record boasting over 25,000 fleet customers.
Join Us at Booth N2469
We extend a warm invitation to all attendees to visit us at Booth N2469. Engage with our team and explore firsthand how our system revolutionizes fleet management.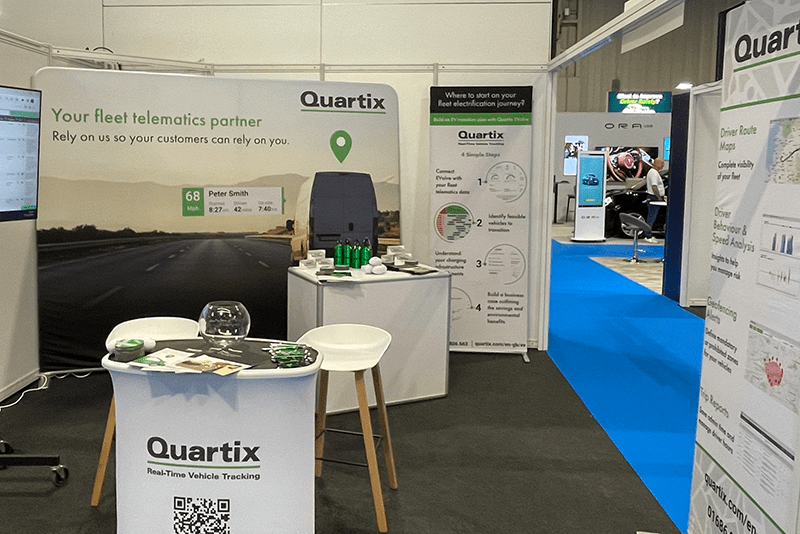 Exclusive Offer for Visitors
As a special offer, visitors stopping by our booth will have the unique opportunity to win a year's free access to our vehicle tracking system for one vehicle. Take advantage of this exclusive offer by simply visiting us and discovering how our solutions can transform your fleet operations.
Unlock Efficiency with Quartix
Quartix vehicle tracking provides a complete suite of tools to help you successfully manage your vehicles, ensure driver safety, and skyrocket your ROI.
In a world where every second counts, our system ensures that your fleet operates at its peak potential, delivering unparalleled performance and cost-effectiveness.
Features include:
Intuitive Vehicle Tracking: Gain real-time visibility into your fleet's movements, allowing you to monitor vehicle locations, routes, and driver behavior effortlessly.
Powerful Reporting and Analytics: Access detailed reports and insightful analytics to make informed decisions, reduce fuel consumption, and improve overall efficiency.
Geofencing and Alerts: Set up custom geofences and receive instant alerts for unauthorized vehicle use.
Driver Performance Monitoring: Track driver behavior, including speed, harsh acceleration, and braking, to promote safer driving habits and reduce the risk of accidents.
Exceptional Customer Support: Our dedicated support team is here to assist you every step of the way, ensuring a seamless experience and addressing any questions or concerns you may have.
To discover more about our solutions please Click here
At World of Concrete 2024, let's connect and discover how our innovative solutions can elevate your fleet management strategies. We're excited to meet you, discuss your needs, and showcase how Quartix can transform your business operations.
If you are interested in registering for the World of Concrete, please register here, we are looking forward to seeing you.