Quartix does the hard work of analyzing the data, and generates simple-to-use reports. Everything can be accessed on the web, and our system includes a wide range of vehicle tracking reports and displays, helping customers identify their best drivers, make sense of mileage and fuel costs, and remove regulatory paperwork headaches.
Weekly reports delivered to your inbox
Key information in the fleet tracking reports includes:
Mileage and gas usage: check the estimated gas usage for each vehicle and compare it against your fuel bills.
Maximum speeds: tallied across individual days and weeks, this report provides a useful way to monitor your fleet's driving style.
Fleet driver shift times: the fleet tracking report automatically calculates the time from the first movement of the vehicle in each day to the last.
Links to location and route maps: the location names and trip numbers provide direct links to maps on our website so that you can quickly check stop locations, speeds, and routes driven.
These reports are an invaluable fleet tracking tool for processing employee time sheets, pay and overtime.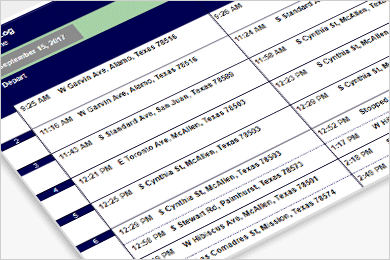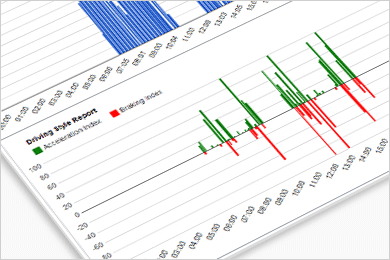 Driving style reports
The reports range from the daily driver briefing to the league table of driving scores which calculates total fleet performance during any period of time. Customers are able to:
Monitor speed, acceleration and braking profiles
Compare driver behavior scores across a group of vehicles or the whole fleet
Save on fuel and reduce risk of accident
Real-time dashboards
The Quartix dashboards give customers the ability to control how they view their fleet's activities in real-time. Each component can be tailored to a customer's specific needs, such as:
Usage: users can see the percentage of vehicles in use either for each hour of the current day or each day of the week.
Number of calls: this component shows the number of vehicles that are away from their overnight location. This allow users to click on a vehicle to view its daily log or last location.
Real-time status: users can see what their vehicles are doing at the current time. The status options are moving, stationary, parked off-site, and parked on-site.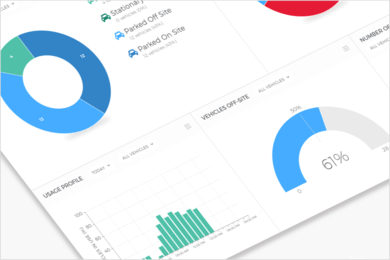 For some components, a utilization target can be set, with the option to show an alert if that target has not been met by a certain time.