Using GPS data to power your fleet's EV transition
Quartix CEO, Richard Lilwall, discusses planning your fleet's transition to electric vehicles. We explore how you can use your fleet's data to recommend the most suitable electric vehicle migration plan and charging solutions, giving you the confidence and knowledge to make a successful transition.
Discover:
Ways to plan your transition to EV and what factors to consider
How your fleet telematics data can be used to inform your EV roadmap
The tools available to support you in this transition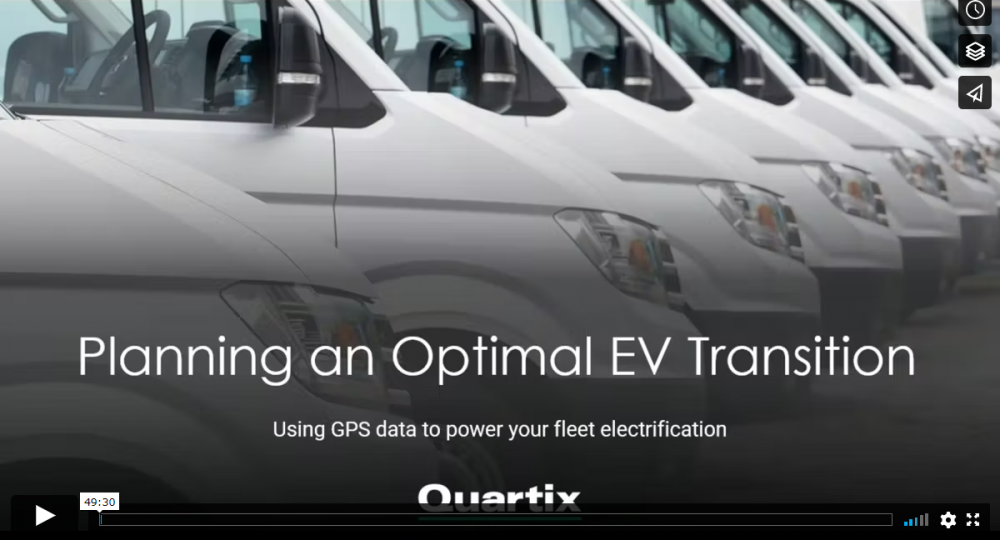 Logistics UK: Managing Driver Risk
In this Van Gold Partner Briefing from Logistics UK, Andy Edwards demonstrates how Quartix can help businesses to successfully manage driver risk. The webinar also covers valuable insights from the Van Driver Safety eTraining module from RED.
Using Quartix driver league tables to encourage safe driving
How Quartix driver behaviour scores are calculated
Guest speaker, Stephen Killinger, explains how the team at Ringtons supports its drivers with the help of Quartix vehicle tracking
Vehicle Telematics: What can it do for your business?
Sean Maher, Head of Sales, explains the benefits that telematics and the Quartix vehicle tracking system can bring to your business, from real-time tracking to driver behaviour analysis.
Key business benefits of vehicle tracking
Live Tracking and route replay
Efficient fleet operations and dispute resolution
Driver behaviour, compliance and safety
Safe Speed measurement – relative speed
Customise reports and configuration to suit you
Tracking on the move – Quartix mobile app
Enhanced Fleet Compliance with Quartix and FleetCheck
In this joint webinar between Quartix and FleetCheck, learn how the data integration between both systems will support you with comprehensive compliance software, driver inspection, fuel data import and identifying your high risk drivers. FleetCheck and Quartix work together to give you total peace of mind.
Timesheet Webinar
In this customer webinar, Alison Ashley, our Vehicle Tracking Expert, shares real-life applications, tips and shortcuts on how to use our Timesheets Reports. This webinar covers:
Timesheet features and overview
Daily vehicle log
Trip reporter
Time on site report
Configuration and Settings Changes
In this customer webinar Alison Ashley, our Vehicle Tracking Expert, shares tips and insight on how to make the most of the Configuration options Quartix provide. This webinar covers:
How to edit driver details
How to edit vehicle details
Setting up a 'group' of vehicles for reporting
Edit User Preferences
How to add MOT, road tax, Service and Insurance renewal dates
How to edit vehicle privacy hours
How to edit and set up custom geofencing (polygon edit)
How to manage your custom locations
Driving Style Reports
Customer Resources Manager Alison Ashley takes you through the valuable Driver Behaviour Analysis reports available with Quartix and shows how monitoring your drivers' speeding, acceleration and braking can lead to a safer, less costly fleet. This webinar covers:
Daily Driver Briefing
Driver Style League Table
Driver Style Trend Report
Monthly Speed Report
Weekly Speed & Utilisation Chart