Vehicle tracking at your fingertips
Use Quartix live tracking to view your vehicles in real-time, at any time, from any device. No additional software is necessary; everything is accessible from the internet. 
Locate your vehicles 24/7
Follow them with Google Maps
Analyse their daily activity
Driver timesheets in Excel
Daily logs and timesheets are clear, easy to read, and customisable for each vehicle and driver. Short trips, such as around a depot, can be viewed or filtered out as needed. 
See start and end times and locations
Get automatically-generated reports
Verify activity on specific dates
Driver behaviour monitoring
Training your staff to improve their driving style is easy with Quartix. Our range of reports give you all the data you need to influence and encourage safe, economical driving behaviour.   
Monitor speed, acceleration, and braking profiles
Compare vehicles across your fleet
Review data with drivers and make changes
Alerts allow you to respond to unauthorised movements by your vehicles in real-time.  You'll also get reports that summarise all speeding incidents in your fleet, covering a whole month.
Create geographic zones
Set rules and times for each
Receive alerts when rules are broken
Management tools ensure you never miss important deadlines. Accurately analyse and forecast fleet usage and see vehicles that are under-utilised.
Improve vehicle operations and utilisation
Monitor engine hours to avoid non-compliance
Verify how long workers were on site
View service and inspection dates across your fleet
You can customise Quartix vehicle tracking to meet your needs. Each vehicle can be configured in order to tailor the reports to your needs, either by us or by you. 
Edit driver/vehicle details and set up groups 
Add MOT, tax, service and insurance renewal dates
Manage custom locations, privacy hours and geofences
You can use an integrated dashcam to capture footage of your drivers trips and view this directly from the Quartix vehicle tracking daily route maps.
Capture HD 1080p footage of any trip
Automatically uploads key events to the Cloud
Simply access footage using the daily route map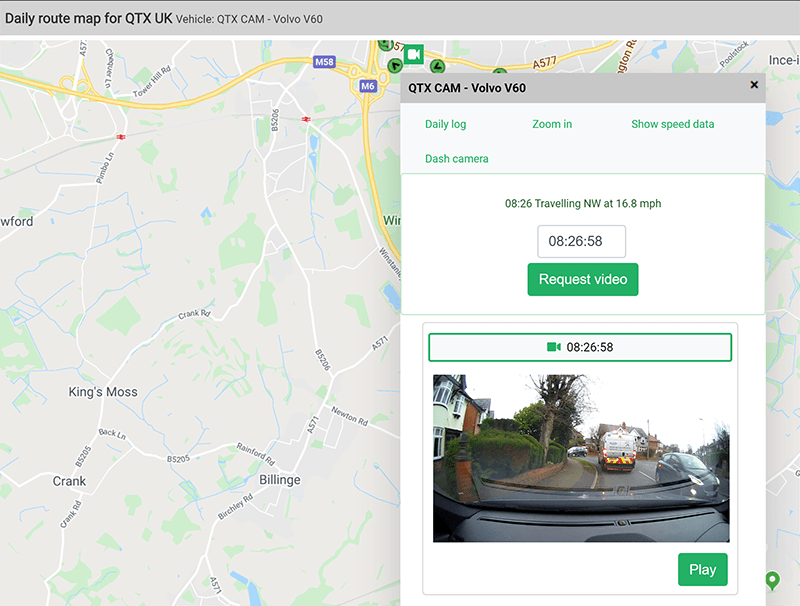 Quartix offers many tracking device installation options that range from engineer installed, hard-wired solutions to simple self-install plug in devices. 
Hard-wired, engineer installed tracking devices 
Two-wire, self-install battery connected option 
OBD plug-in devices that are easy to switch between vehicles
Try Quartix vehicle tracking now
See how Quartix will work for your business with our free demo.