West Oxfordshire District Council, which is using Quartix telematics technology to plan more efficient routes for its service vehicle fleet, has won a top Energy Savings Trust award.
The council, winner of the best small public fleet prize, has reduced its Co2 emissions by 17%, amounting to up to 368 tonnes of carbon.
Fleet Hero Awards 2011 judges said the council had used all the tools available to it and made some significant changes. Its results were particularly impressive for a small district council: managers had tackled key criteria in a good, consistent way and demonstrated very detailed record keeping.
The Witney-based local authority found its 91-vehicle fleet was responsible for 43 per cent of its carbon footprint. As a result, it implemented a carbon management plan to reduce emissions by 5 per cent a year and in January 2011 adopted a green travel plan.
In July 2010, the council ran a smarter driver training programme and repeated it in January, 2011 when new employees and some services which had missed out the first time were included. This delivered efficiency improvements of up to 38 per cent.
West Oxfordshire District Council employs the Merridale fuel system to monitor driver and vehicle fuel efficiency. It is used in conjunction with Quartix telematics technology, which enables it to plan efficient routes for its service vehicles.
Fleet replacement has focused on more fuel-efficient vehicles the most recent, procured in June, increased fuel efficiency by 2.1mpg. The council has also invested in two pool bikes to reduce grey fleet mileage for local journeys.
More about Engergy Savings Trust's Fleet Hero awards
The Energy Savings Trust gives impartial advice on ways to reduce carbon emissions, use water more sustainably, and save money on energy bills.
An independent body and charity, the trust provides its advice in response to the UK's need to reduce energy and water use and carbon emissions, lessen the effects of climate change, and lessen the effects of increasing household energy costs. The trust's Fleet Hero awards recognise public and private organisations that reduce their carbon footprint and lower fuel bills through fleet travel and transport policies.
The awards also recognise companies that supply the most innovative cost and fuel-saving products or services to car and van fleets.
This year's London awards ceremony, held in November, was attended by Norman Baker, under-secretary of state for transport, and 150 transport sector delegates.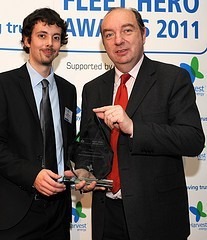 (photo: Sam Thomas, climate change and carbon management officer, left, receives the Energy Savings Trust's best public sector small fleet prize on behalf of West Oxfordshire District Council from transport minister, Norman Baker.)