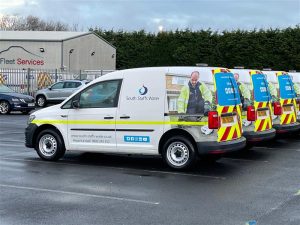 The Quartix product is very reliable, the insights it provides are fantastic and the support we've received is second to none. The system tells us exactly what our fleet is doing, rather than what we think it is doing, which is invaluable knowledge for any business.
Comprised of several divisions including South Staffs Water (operating since 1853) and Cambridge Water, South Staffordshire Plc has been serving the needs of the nation, supporting water, gas and other utility services. Certain branches of the business provide electrical lightening, ground earthing and light testing for many high-profile establishments. Its group services also provide and maintain vehicles for customers including major leasing providers, small businesses, and housing associations.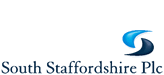 Choosing the right vehicle tracking system
South Staffordshire Plc has almost 2,000 vehicles nationwide, ranging from cars to 5 tonne vans, and operates a number of specialists HGVs, all fitted with Quartix vehicle tracking.
"We started out with another system, but over time, we started acquiring other companies, each with their own telematics system," says Bob Stokes, Head of Fleet and Managing Director of Fleet Services. "We wanted one service for everyone and the product we had at that time was very expensive and inflexible. One of the new companies used Quartix and were very happy with it. We began talking to Quartix and found out that the vehicle tracking system did everything we wanted and that their values as a company aligned with ours."
Once Bob had decided to switch all of the South Staffordshire Plc fleet to Quartix vehicle tracking, the installation process began. "We challenged Quartix to install a large amount of devices in a short time," Bob remembers. "The Quartix team easily fitted us in and accommodated our requests to rearrange some appointments. We were very impressed. That was seven years ago and we're still happy with the customer service and support today."
Tracking and maintaining vehicles
On a day-to-day basis, the individual offices within South Staffordshire Plc use the Quartix system to monitor driving styles and generally keep track of their vehicles. "We use the system to plan work and see how the drivers are operating our vehicles," Bob says. Speed reports are a feature that all branches use in order to mitigate the risk of accidents and reduce vehicle wear and tear.
"Being able to monitor every vehicle means that we can drive down our insurance costs by decreasing our risk of accidents. Our insurance is set up so that we get rewarded, through lower premiums, when our claims don't cost the insurance company as much as they allow for each vehicle per year. The Quartix system has helped us get our insurance claims down to a point where our premiums won't increase."
"Recently, we've been using the battery status reports," Bob goes on to say. The battery status report shows South Staffordshire Plc the latest readings for all its vehicles and highlights any with low or critical voltage readings. This helps the business avoid dead batteries and prevent any scheduling issues that could result from having vehicles out of service. "It's helped us a great deal throughout the Covid-19 pandemic when vehicles weren't being used as much as usual and battery health was at risk."
"Being able to monitor every vehicle means that we can drive down our insurance costs by decreasing our risk of accidents."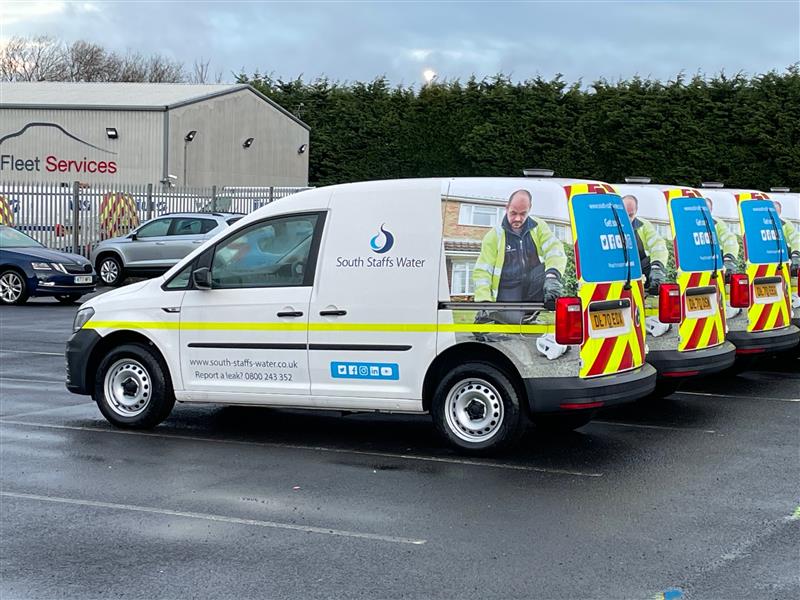 Preparing for the future
Looking ahead, Bob predicts that within the next few years, South Staffordshire Plc will start the switch to electric vehicles throughout their fleet. "In order to prepare for an electric vehicle fleet, we need to understand our fleet better. Quartix can give us a complete picture. Whenever there is an incident of speeding or accident, we can look at the whole event through the live tracking map and the Street View. We know what the circumstances around the event were, so we know how to train our staff to keep it from happening again."
Coming back to Quartix's driver behaviour reports, Bob believes these are the best way to really know what is going on with a vehicle. "Our drivers know that the managers receive their driving reports every week. We focus on drivers who have been flagged as 'red' in the driver behaviour reports and we match this with vehicle maintenance analysis, looking at excessive tyre and brake wear," he says. "It's been a really effective way of encouraging them to drive better and safer."
Switching to electric vehicles is expensive, but Bob looks at the Quartix system as a method of cost avoidance, which will help balance the outlays associated with electric vehicles.
"The Quartix system has more than paid for itself," Bob says. "When the time comes to go electric, we will be in a good position."
The Quartix difference
"It's like having an extra team member!" Bob says of the Quartix system. "The Quartix product is very reliable, the insights it provides are fantastic and the support we've received is second to none. The system tells us exactly what our fleet is doing, rather than what we think it is doing, which is invaluable knowledge for any business."