Quartix is always finding new ways for the system to meet your individual needs. To that end, we recently added scheduling capability to several of our most popular reports, the driving style league table, vehicle utilisation and our speed analysis reports.
Now we have added a scheduled reports menu (available under Configuration) which allows you to keep track of these reports for your account.
You will be able to see:
Who scheduled the report
What group of vehicles the report is for
The report name – The system will now provide a default name when a report is scheduled, but you can modify it to a name of your choice. If there are other scheduled reports with the same name, the system will add a suffix of 1, 2, etc, to differentiate them.
The type of report – You can select from the driving style league table, vehicle utilisation or speed analysis.
Menu options selected for the report—This includes privacy options.
When it's scheduled to run—Monthly, weekly, daily.
The next scheduled run date and time
Where it will be emailed to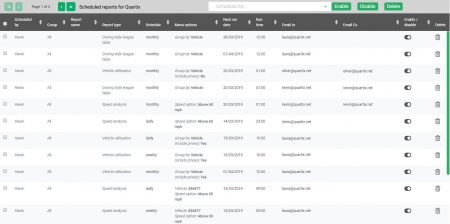 From the scheduled report menu, changes can be made to the name of the report, who it is emailed to, and when it is scheduled by clicking on those options in the report listing. You will also have the option to temporarily disable and enable the reports, as well as delete any scheduled report entirely.
We believe you should decide when and how you receive your fleet reports. Scheduling is just the latest way we are customising the Quartix system to put you in charge of your data.