This time I'm catching up with Dan Catterall, Sales Manager with focus on both our Direct & Partner Sales Channels. 7 years on from the original poster, and Dan is still the man to track your van!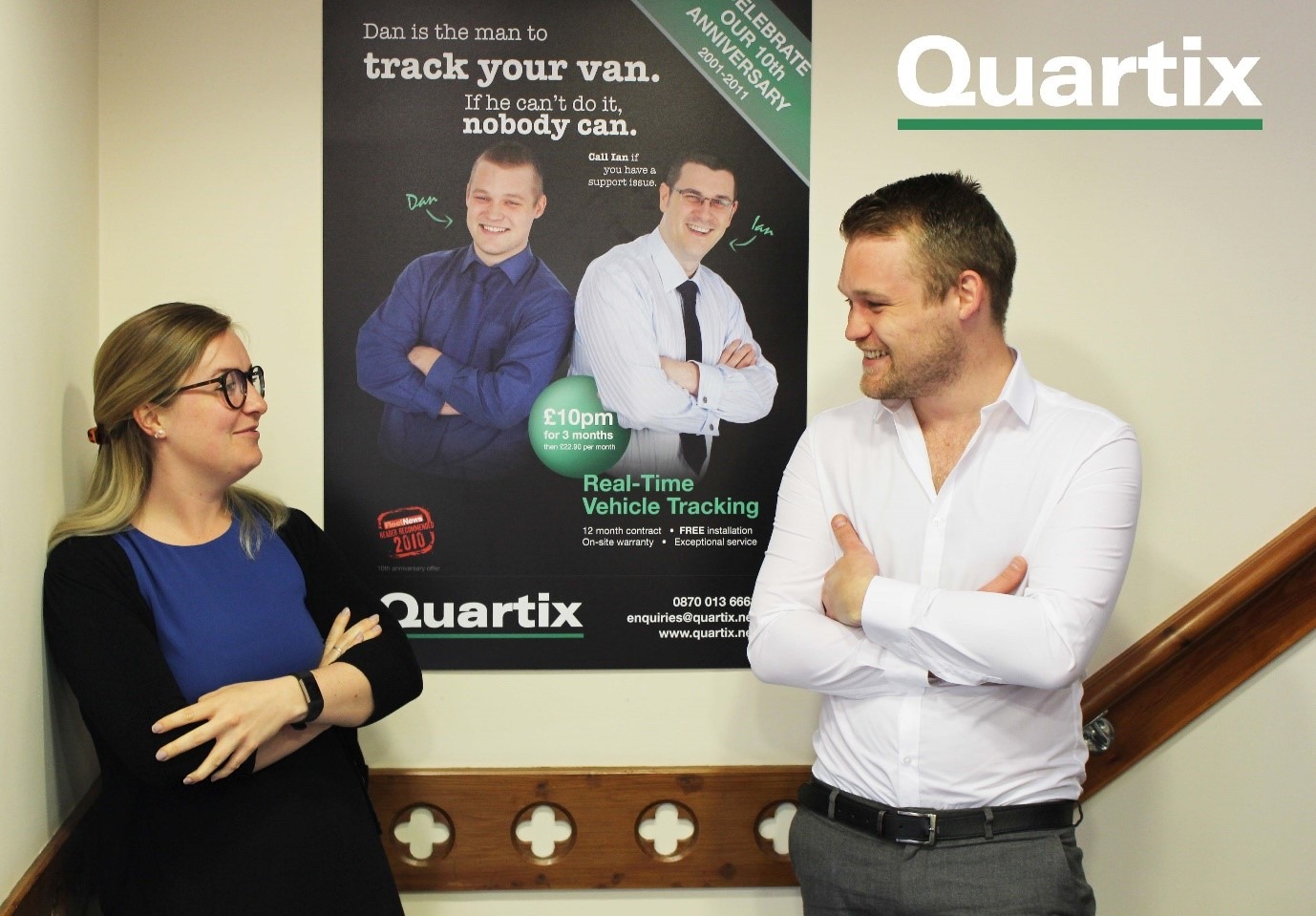 Tell me a bit about yourself
Originally born in London, I arrived in mid Wales at Quartix in 2010 having graduated from University with a BA in Business & Management. To help fund my studies I had worked in a number of face to face sales roles thus saw the role for Sales Executive at Quartix as a great opportunity to build on that prior experience, as well as a fantastic first step on my career ladder in sales – in truth I hadn't consciously chosen sales as my career of choice rather, it seemed to come naturally. I'm happy it did as since 2010 I've found it a massively rewarding sector to work in; every conversation we have is different, each potential requirement varies so it's never the same, always moving and the atmosphere is great. There have been moments where it has been challenging and even frustrating but they each add to the learning process plus, as an Arsenal fan I am somewhat used to frustration!
How do you find it working for Quartix?
When I started at Quartix the Company had around 25 employees and 2,000 clients. Today, the company employ closer to 140 staff and have 11,000 fleet clients so much has changed, but the core values remain despite the rapid growth. This kind of consistency makes Quartix a great company to work for and is probably one of the reasons that so many staff have been here more than 5 years. Whether new or established, every member of the team shares the same ethos and works towards making the customer journey as positive as possible; from a sales persons perspective knowing that the rest of the Quartix team endeavour to provide this level of service is a huge bonus. In 2017 we brought on board two new Directors as part of our succession planning for the years to come and, working alongside them for the last 12 months, sharing ideas and taking from their knowledge and experience has been a fantastic experience. A number of key sales & marketing projects are due for completion this year which makes 2018 a year to look forward to.
How would you describe the Company culture?
The Quartix mission is to provide customers with operational data to improve their business performance with information delivered quickly and reliably through our applications and every member of the team takes great satisfaction in ensuring that they do their part to help and succeed in doing so. With every employee having a direct line telephone number they are not only easy to reach and approachable but able to take ownership of a customer's query from start to finish, becoming accountable for providing the required resolution. This is something that has been in place since the early days and therefore is deeply rooted in the Company culture, meaning it is passed on as second nature to new employees; this makes Quartix a great place to work.