Quartix's HR Generalist, Alys Smith, recently sat down with Ian Pawley, Head of Support, to discuss football, Quartix's exceptional staff, and the cakes that were brought in for Cupcake Day in support of the Alzheimer's Society.
Tell me a bit about yourself
Work wise I have been with Quartix for over 14 years, starting as Technical Support Professional. I have progressed through Support Manager to now be Head of Support where I am responsible for the UK, French and USA support operations. Prior to Quartix, I worked for 3 years supporting a front of house hotel software solution and before that I worked for 4 years in London for a financial software company. In total I have over 20 years' experience in customer and technical support.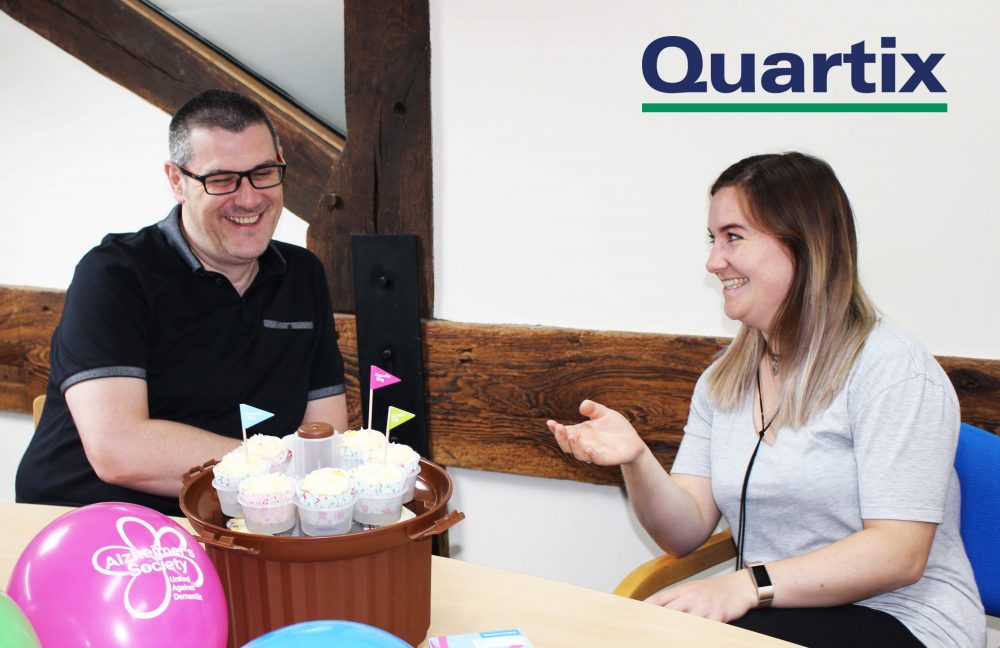 Outside of work I am married and have two young boys, well, one is not so young and is currently going through his GCSE's (I don't miss them). I have a keen interest in sports and films (I am a big kid at heart here and really like superhero films – it keeps me young). I have coached a junior team at Berriew Football club for that last 3 years and I have my FAW C Certificate. It's both challenging and rewarding at the same time. I am also on the committee for the Mid and North Powys Junior football league and it was great that Quartix were able to sponsor the most recent Winter League that proved very successful.

How do you find it working for Quartix?
Working at Quartix has been a great experience; there are challenges, but it would not be a good business to work for if there wasn't something to keep you on your toes. Having been here for over 14 years I have seen a lot of changes. We moved from one small office in Ladywell House to taking over the whole of the Chapel on Park Street and probably a quarter of St Davids House all in the last 14 years. This growth has been driven by the founders of the company and the staff that they have brought in to make sure we are offering the best product and service we can to our customers. I am very proud of the part that I have played in that growth and it has been great that the company has been recognised in the local area with awards including the Powys Business of the Year award in 2013, the first year we entered the awards.
How would you describe the Company culture?
The company culture has always been like a family. Everybody knew everybody else and their partners, and the whole company got together a couple of times a year to reflect and socialise. Naturally, as a company grows, the culture will change and this brings its own challenges. At the moment I would say we are part way through that transition from a SME to a larger corporate enterprise. That being said, our staff are still the most important asset of our business and we try to still foster good communication between all levels of the business.
It is the staff that deliver the high quality service that our customers have come to expect from us. We are very lucky as a company in that we do not have a high staff turnover; there are people that have been with the company over 10 years and numerous people who have been with us over 5 years. As we continue to grow, we are always looking at what we can do to make sure that we keep the high quality staff that we have and to make sure the jobs are enjoyable for them. Fingers crossed I'll do another interview in 11 years when I get to my 25 year anniversary!
What's a day in your life like?
A typical work day will start with a 6am wake up (young boys to get ready for school) and this allows me to get into the office a bit earlier to try and clear through any e-mails. I'll have a plan of what I want to get through, but on most days that has to be modified, depending on what the support teams are dealing with. I have great people in all the support teams, but I'm there if they need any help or a sounding board.
I'll also be spending time looking at what we can do to improve processes for the team that will allow us to be more pro-active for our customers as well as ease the pressure on the support teams–this is always an on-going task. There will be other management tasks to undertake and there may be a meeting or two but thankfully we have never been a company that has meetings for meetings sake. I'll probably leave the office just after 5pm but the guys that are in the US Support team know that I can be contacted at home via phone or Skype if there is anything they need assistance with. Then it will be usual family life at home, then bed, sleep and then we do it all again!