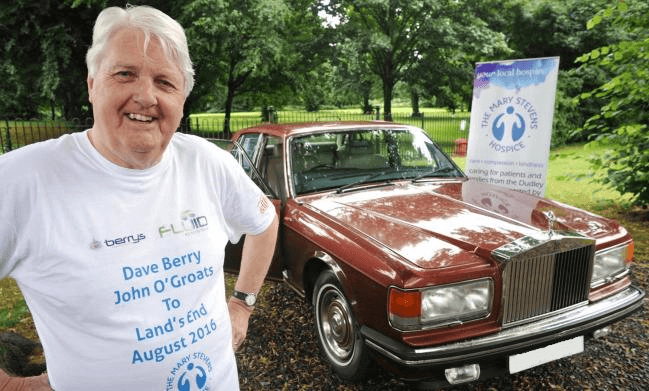 Last month Mr. David Berry successfully completed a charity drive all the way from John O'Groats to Lands-End, raising money for The Mary Stevens Hospice. The entire journey was tracked using a portable Quartix unit, which was provided especially for the occasion.
Mr. Berry, who heard of Quartix through Shire Consulting, led a team of three who drove the entire distance in a classic Rolls Royce, making scheduled stops along the way.
He explains, "We zig-zagged our way down the country stopping off at various clients and suppliers my company has used for the last 50 years. It was great for them to be able to follow us on the interactive map and chart our progress."
It wasn't all plain sailing however, with one incident threatening to bring the journey to a halt. Within the first few days, David and his team found themselves almost without fuel and with no petrol station in sight. After having no luck searching with their satnav, David had an idea:
"I suddenly had a eureka moment, called the office, and on the tracker they could see exactly where we were and that we were thankfully only a stone's throw away from a back of beyond one man filling station. Tragedy averted!"
Back on the road again they completed their challenge safely and in good time.
"I would like to say a big thank you to all concerned at Quartix for providing us with one of your vehicle trackers during our charity drive. For so many reasons, all-in-all a resounding success for your system."
Mary Stevens Hospice provides free specialist care for people living with cancer and other life-limiting illnesses in Dudley Borough and the surrounding area, as well as dedicated support for their families and carers.