It does everything we need it to do – with no complicated, unnecessary frills – ruling out the need for dedicated PC, phone line, aerial or specialist software.
Commercial vehicle tracking
Established in 1978, Carter and Faraday Associates is a large, independent commercial cleaning company, based near Gatwick. More than a hundred staff facilitate provision of a diverse range of services including window and office cleaning, graffiti removal, bulk rubbish clearance and maintenance of communal areas.
Leaders in the field of cleaning and maintenance, Carter and Faraday operates a 16-vehicle fleet to service its extensive client-base drawn from the motor trades, manufacturing, retail and banking industries across London, the South East and Home Counties. The company also serves both public and private sector landlords – including 22 housing associations.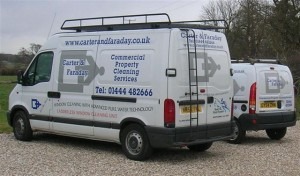 GPRS real-time tracking technology
This dynamic firm has experienced a doubling of its growth rate in the past three years. Business Development Manager, Daryl Goldring attributes this considerable success to the company's dedication to keeping ahead of the competition. "We are always looking for ways to implement new technology for the benefit of the business, especially in relation to fleet operations and customer service we like to offer a package that's a bit different to what's available elsewhere," he says.
Having utilised a tracking system for around 5 years, Goldring became increasingly frustrated with both the service and cost of the existing provision. Eighteen months ago he decided to review the telematics market for alternative options, paying particular attention to the crucial issues of price, capability and level of service provided. Following research into at least four separate tracking systems, he confidently chose the Quartix solution.
"Although not the cheapest option," comments Daryl, "the service is competitively-priced and offers the ideal combination of good value for money and exact fit to our fleet requirements. It does everything we need it to do – with no complicated, unnecessary frills – ruling out the need for dedicated PC, phone line, aerial or specialist software. I also liked the fact that it's web-based and therefore accessible from home or any other location."
Consequently, eight Carter and Faraday fleet vehicles were fitted with Quartix GPRS real-time tracking technology and Daryl details the business benefits of embracing the state-of-the-art service
"The Quartix team is at the same time approachable, efficient and flexible – I've got complete confidence in them"

Daily tracking records
Outlining some of the cost benefits of the system, he states that the company are making considerable savings in terms of private use of vehicles. "The daily tracking records clearly show the amount of private mileage accrued by each employee, which we then charge back to them," he explains, "It results in cost savings and deters against out-of-hours use. It should be said though, that the drivers have no problem with the system I make it clear from the outset that fleet vehicles are tracked and we've had no complaints.
The tracking logs also serve as accurate timesheets – eliminating incorrect overtime claims and saving on labour costs," Daryl continues. "Once installed, you can relax and let the Quartix service take care of itself. So much time is saved in comparison to our other system it only takes minutes to check the emailed logs in the morning to see what's been happening with each of the operatives and the vehicles – previously, this was an involved, time-consuming operation!"
Tracking technology
With astute attention to customer service, Goldring states, "We're proud of the diligent service provided to our clients and the good relationships maintained with them, so the tracking logs are interrogated to establish the length of time that an operative has spent at any specific job and whether this is sufficient for the job to have been completed thoroughly. We treat every assignment as having equal importance, whether it is a single call or a national contract."
"One of the added benefits of the tracking technology is increased productivity," Daryl adds, "If the logs show that an employee is regularly finishing a scheduled three-hour job – to the required standard – in two hours, then it's our cue to reduce the operative's hours and thus save costs. Also, because employees are aware of the tracking facility, they get through their assignments with minimum time wasted."
Carter and Faraday positively encourage communication between client and company and Goldring explains that the tracking facility enables faster response to customer enquiries.
"Previously, if a customer phoned to say that they hadn't noticed the cleaner that week, our representative would have visited to check that the work had been carried out. Now, we refer to the tracking log and can immediately reassure the customer of the day and time at which our operative attended the job. Alternatively, we could use the system to explain that the vehicle had been stuck in traffic for an hour or similar. Either way, the company saves time and manpower – which ultimately leads to more cost savings."
In common with other users of Quartix tracking solution, Carter and Faraday find that the real-time tracking service is a key selling point. "Potential clients are quick to pick up on the enhanced service provision that they will receive as a result of the tracking system – it definitely confers a competitive edge," states Daryl, emphatically.
When asked about support from the supplier, he replies that the high level of service has been quite remarkable in comparison with that offered by his original tracking provider. "The Quartix team is at the same time approachable, efficient and flexible – I've got complete confidence in them," he explains.
Daryl Goldring has been sufficiently impressed by the Quartix experience to have ordered a further eight units to fully replace the existing tracking system and has also recommended the service to other companies.