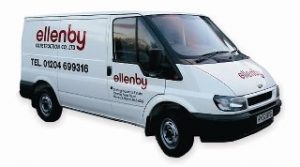 It's great for us, because we've done away with timesheets. Our employees don't need to do the paperwork; ­ we use the daily email reports to log their hours on site and calculate wages from that. The system definitely saves us money.
Construction industry tracking
Repeat customers Ellenby Construction have contractors working on building sites across the northwest of Britain, including football stadiums, hospitals and schools.
The company had used the Quartix system for a year when expansion brought the need for an extra vehicle. The firm had no hesitation in installing the system into the new vehicle.