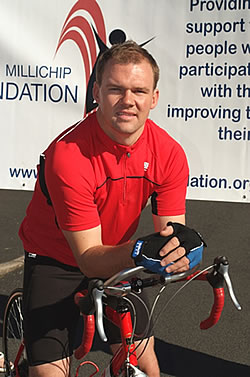 Two amateur cyclists who completed last weekend's (June 11 and 12) Holyhead-Barry Welsh Biking Challenge have raised £2,500 for charity.
Mark Benbow, 33, from Tenbury Wells, Worcestershire and Chris Aspey, 34, of Chester, finished the gruelling 220-mile ride at Barry Island on Sunday afternoon, having left Holyhead at 7am on Saturday.
Sponsors and supporters were able to follow their progress online. Quartix, the Newtown telematics company, equipped a support car with real-time vehicle tracking, allowing their progress to be watched on a live Google map available on any PC.
Mark, a sales manager for Advantage Business Supplies, Hereford, said the going was tough: "We had a bad spell towards the end of the first day from Llambirmair to Llandiloes. The road we took was one of the hilliest I have ever seen. It was fifteen miles long and some of the climbs were unbelievable, especially having already done a hundred miles.
"Also, the weather on Sunday was horrendous. At one stage we were pedalling backwards because of the wind."
The ride took them over the mountains of Snowdonia, the Brecon Beacons, the Elan Valley and the Heads of the Valleys.
And despite Chris picking up a puncture with five miles to go, the pair made it to the finish on time.
"The fish and chips on Barry beach in the pouring rain were lovely," added Mark.
The money raised will go to the Adam Millichip Foundation, a charity dedicated to providing financial support to disabled people who wish to take part in sport.
Andy Kirk, Quartix director, said: "This was an extremely worthwhile event and we are delighted to have helped bring it live to people's computers."
More about the Adam Millichip Foundation
The Adam Millichip Foundation, founded in November 2010, has one goal: to provide financial support and assistance to disabled people who wish to participate in sport, with the aim of improving the quality of their lives.
With the tragic death of his brother, Adam, in 2007, Stuart Millichip wanted to do something to honour his memory. In May 2010, he and three others formed a committee to found the Adam Millichip Memorial Golf Challenge – which in its first year raised more than £7000. This sum was donated to two local charities.
Following the first golf day, Stuart approached his fellow committee members with the idea of forming a fully registered charity in memory of his brother – and The Adam Millichip Foundation was born.
This year, the foundation has organised a seven-person skydive and staged the second Annual Adam Millichip Memorial Golf Challenge. In July, following the bike challenge, a guest-speaker night will be held, with more events planned for the autumn.
A registered charity, the Adam Millichip Foundation is based at Burford, Worcestershire.
For more information go to http://www.adammillichipfoundation.org and http://www.adammillichipgolf.co.uk.