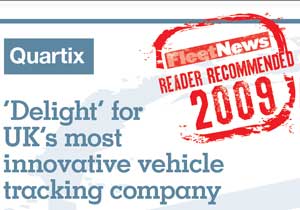 Responding to the award of "reader recommended" status by Fleet News, Andy Kirk, sales and marketing director of Quartix, the UK's most innovative vehicle tracking provider, says: "It is extremely gratifying that readers of this respected publication have selected Quartix as the one company they would recommend.
"It backs up our own findings that more than 50 per cent of Quartix business comes from customer referrals and repeat business. We are delighted with this recognition." Mr Kirk believes there are a number of reasons for Fleet News' readers' decision.
He said: "Firstly, we are an innovative company that meets their needs with new products and services. Secondly, we always deliver in an efficient, timely and cost-efficient manner, and thirdly, we are one of the UK's most stable vehicle tracking companies."
Quartix demonstrated its innovative approach again earlier this year, adding pay-as- you-go to its vehicle tracking system rental and vehicle tracking system purchase options. Today, PAYG accounts for more than 40 per cent of the company's sales.
"We're not entirely surprised," adds Mr Kirk. "For example, if managers need to downsize their fleet management they can remove the live GPS vehicle tracking device from a vehicle without incurring penalties. It means they don't pay for vehicle tracking they're not using – which would be the case with leasing."