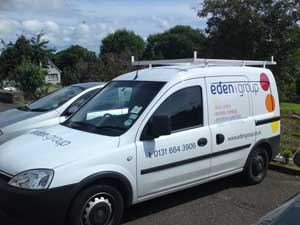 A £10,000 Vauxhall Combo van stolen in Edinburgh has been recovered by police thanks to the accuracy of Quartix online vehicle tracking.
The van, taken from outside the home of a TV-installation engineer was back with its owner, the Eden Group, within hours.
Stuart Baillie, the group's senior partner, said: "I contacted the police, and at the same time logged into Quartix, to tell them the location of the van.
"The system had tracked it to a deserted car park 25 minutes from where it was stolen. Its contents, including a £1,000 drill, had been stolen and there was slight damage to the rear door.
"However, the main thing was they got the vehicle back, which was very good."
Praising Quartix for their "positive response", he said the vehicle was taken from outside the engineer's house at 11.45pm and was back on site by 10 the next morning after police had carried out an inspection, including finger-printing.
Between its removal and recovery, the nine-month old van is believed to have been involved in an "incident" along the coast from Edinburgh.
"Quartix's technical team created a one-off log-in facility for this vehicle and I supplied the information to the police so they could see all the reports," said Mr Baillie.
"They showed the thieves never once went over the speed limit. They obviously didn't want to draw attention to themselves."
The online Quartix system allows customers to track their vehicles in real-time 24 hours a day, seven days a week and provides a continuous flow of current and historical management information.
Three months ago, Quartix became the first major telematics supplier to offer pay as you go vehicle tracking.
Andy Walters, Quartix's managing director, said: "It's great the Eden Group got their van back so swiftly, and we are delighted to have helped them and, in the process, the police.
"Of course, every month we tend to help several customers in a similar way simply because our system monitors more than twenty thousand vehicles around the UK twenty-four hours a day. Out of that huge number it's a sad fact some are likely to be stolen.
"However, because they can see their vehicles' location in real-time our customers are able to alert the police and retrieve them quickly."
The Eden Group, based at Ellen's Glenn Road, Edinburgh, has eight vehicles, each installed with Quartix vehicle tracking. The company specialises in TV installations, CCTV and data distribution.
Quartix, founded in 2001 and with offices at Cambridge and Newtown, Powys, has grown to become one of the UK's most successful and innovative vehicle tracking service providers.
Its award-winning system is available through lease finance, outright purchase and Quartix Pay As You Go. This version can be tailored to suit an operator's exact requirements, from simple tracking through to the Corporate model, ideal for large multi-site fleets.