Pay how you drive insurance using telematics systems has begun to revolutionise insurance for young drivers.
To meet demand, during 2011 a number of British telematics suppliers joined forces with insurance companies to offer services aimed at the retail sector, and, in particular, young drivers.
Next year, I predict, the sector will grow rapidly as more insurance brands enter the market.
Meanwhile, the same telematics technology is set to reduce the cost of fleet-based insurance, although here the insurance industry is dealing with a different set of issues.
For example, in the case of retail insurance an individual driver's profile governs premium costs – but with transport fleets a single overall premium is charged, the amount being determined by different drivers' risk profiles. By implementing management systems based on telematics data, fleet operators are able to cut risk – and, therefore, insurance premiums – dramatically.
In 2012, pay how you drive insurance is certain to set the pace, allowing fleets to pay only for mileage covered, provide lower premiums for better driving styles, and help fleet managers decide at an earlier stage which drivers might pose a higher risk.
Moreover, the technology can help them recognise those drivers most likely to have an accident, and spot any high risk driving styles before they become a liability. Not surprisingly, fleet operators' interest in telematics insurance is gathering pace. And I expect many more transport fleets will adopt the new products in 2012, not least because of the cost savings to be made.
My prediction is based on hard experience, our company is one of the pioneers of telematics-insurance technology.
Telmatics uptake has been remarkable: this year we will have installed more than 18,000 tracking systems. Next year, it is virtually certain the use of telematics data in risk assessment will migrate to the fleet sector.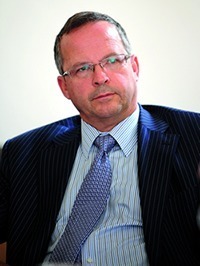 (photo: Andy Kirk, sales and marketing director, Quartix)