Hi, this is Peter Brown again the Quartix Vehicle Tracking Systems Development Director, following on from my previous blog post about my recent Chicago Marathon in the US.
I completed the Chicago Marathon on the 11th October 2015 in 4 hours 23 minutes and 45 seconds; please click this link for the results details. It was a fantastic event on a clear and sunny day in Chicago with lots of support throughout the 26.2 miles. Below is the view of the trip as recorded by the Quartix Vehicle Tracking Device I carried with me and, for comparison, the route map from the Chicago marathon site (www.chicagomarathon.com) .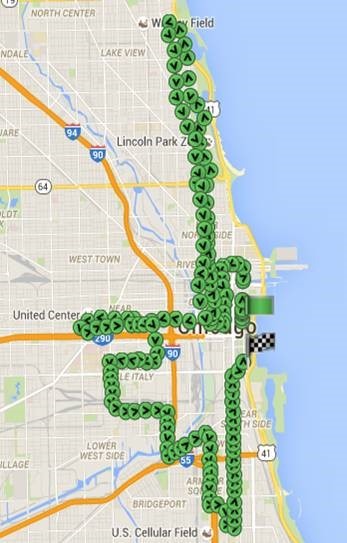 The Chicago Marathon as recorded by the Quartix Vehicle Tracking unit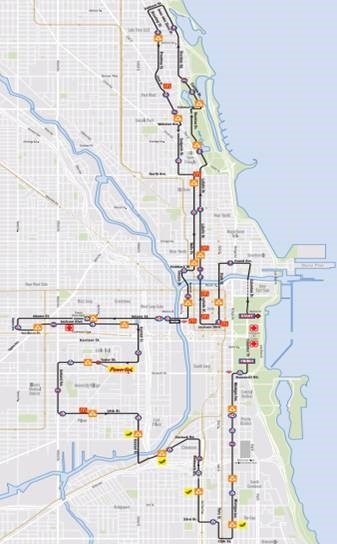 Chicago Marathon route map from the Chicago Marathon web site
Going back to the day before, it was a bit frantic as my flight was 3 hours late which left me just one hour from when we landed to pick up my participant pack. The Chicago Marathon team were very understanding and were waiting with my pack when I got there half an hour late. Once that was done, it was a short trip to my hotel and after a pre-race burger and fries (did I say I was an athlete?), it was time to rest. My hotel was thankfully just on Michigan Avenue, opposite Grant Park where the race started, so for the 07:30 am start, it didn't take long once I was up to get out and find my starting corral.
For an event of 45,000 runners, it was well organised with plenty of marshalls directing the participants to their starting positions. Despite the early start everyone was in good spirits and raring to go. I had expected a slow congested first few miles, but it was actually not too bad. There were spectators along the route with entertaining, encouraging messages both on boards and being shouted, which I won't repeat here as the ones I can remember are not for family consumption. There were a large number of messages encouraging a 'random stranger'; that was a great thing to see, as some would say runners are quite random and strange. The support was fantastic throughout the course in all the neighbourhoods, with music at various points including live performances. I may have been hallucinating, but I am sure I saw Elvis.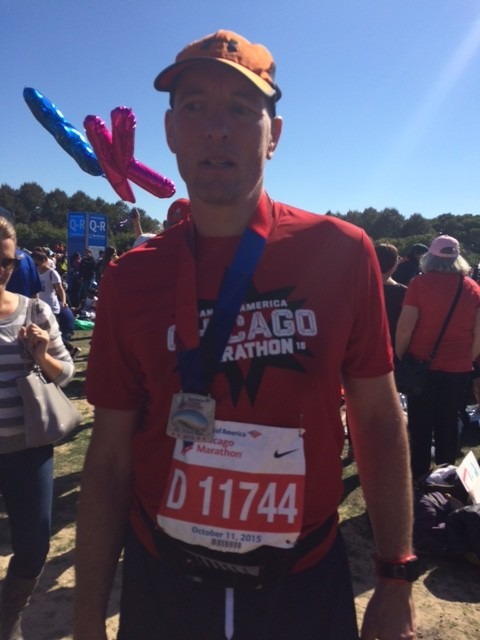 As shown in the maps above, the Quartix Vehicle Tracker worked and even kept going to the end, which means it lasted almost five hours, as I turned it on when I got into the corral around 07:15 am. It was 07:41 am when I passed the start line; I finished and turned it off at 12:05 pm. As stated in the previous post, the Quartix Vehicle Tracker is not much bigger than a mobile phone, although a bit thicker, so it was no problem to carry it in the pouch you can see on my waist in the photo.
Yes, this is me, fit as a fiddle after the event, struggling to stand up under the weight of my medal. We will look at the data and see whether there is anything to be learned about slow moving vehicles…and for the last few miles it was tracking a very slow moving vehicle.
I would like to thank all the people who have sponsored me so far, and if anyone out there would still like to contribute to the Make a Wish foundation then my page will be active for a month after the event at http://uk.virginmoneygiving.com/fundraiser-web/fundraiser/showFundraiserProfilePage.action?userUrl=PeterBrown320.
Again thanks for reading,
Peter Brown
Quartix Vehicle Tracking Systems Development Director