Exceptional reliability, built on 16 years of telematics experience
The TCSV11 hard-wired and TCSV12 OBD plug-in tracking systems use Quartix's latest generation telematics technology and architecture, including fast GPS and accelerometer sampling. Based on experience gained over more than 15 years and 300,000 units installed, these products have been designed in-house by our Cambridge design team to satisfy the needs of our insurance customers.
Key features of the Quartix TCSV11 hard-wired and TCSV12 OBD telematics systems
10Hz GPS – sampling location, speed and heading ten times per second
This gives our tracking systems unparalleled capabilities in calculating acceleration and braking, as well as providing 10 times more journey data in the period surrounding an impact.
100/800Hz accelerometer
This +/-8g, tri-axis, 14 bit resolution accelerometer, coupled with fast GPS data, provides the ideal hardware and firmware platform for crash detection and reconstruction. It is sampled 100 times per second and has 800Hz capability for future enhancement.
Fast ARM processor with multi-tasking OS
The ARM processor and OS environment enable the tracking system to process large amounts of movement and acceleration data in real-time, correlating between them to achieve better accident detection
Alternator sense
The voltage sense capabilities on the input power enable the system to detect engine activation by monitoring the alternator voltage – blocking any attempts to tamper with the ignition feed.
Battery backup
Our tracking systems are fitted with highly-efficient, lithium polymer batteries which are capable of powering multiple transmissions over several hours to our remote servers in the event that the tracking system is disconnected from the vehicle battery. This feature is crucial during a serious crash or in any attempt at tampering.
Compact and rugged design
The TCSV11 is fitted securely inside a bulkhead mounting plate and clip using cable ties. The unit has fully integrated mobile phone and GPS antennas for fast, simple installation. It measures just 90x55x24 mm and weighs only 90g.
Remote vehicle validation
Our insurance team guide the young driver through the installation process for the TCSV12 OBD product, and validate that it has been connected to the insured vehicle (using the VIN number or vehicle signature). We then monitor it closely for disconnection or connection to a different vehicle.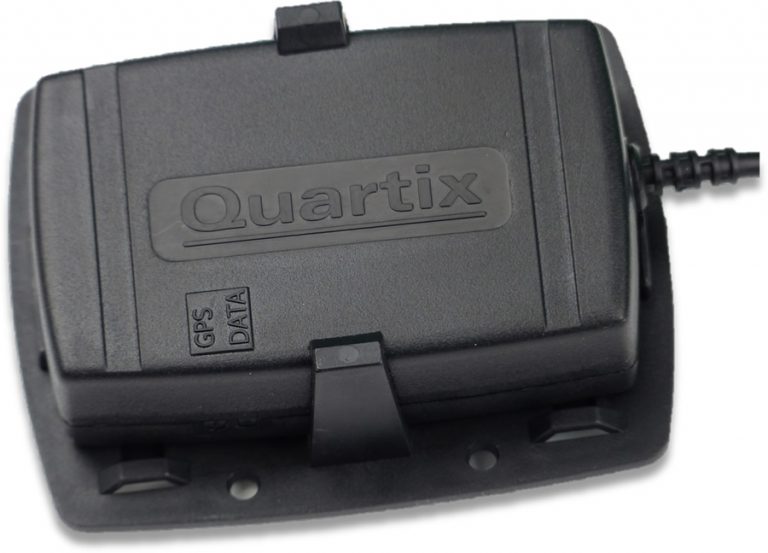 The TCSV11 is fitted securely inside a bulkhead mounting plate and clip which is secured in a hidden location for ultimate security.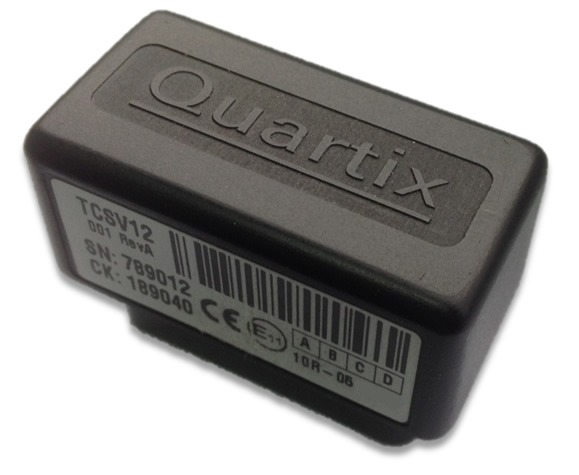 The TCSV12 OBD plug-in device is compatible with more than 90% of modern cars, allowing it to be fitted within minutes by the young driver.
Functional block diagram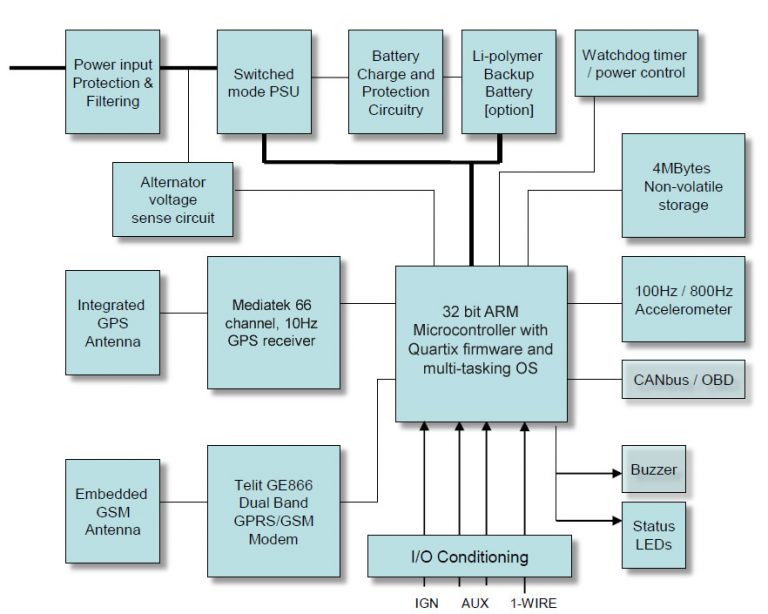 Technical specifications – hardware
EMC/ EMI – the TCSV11 is compliant with European Directive, 1999/5/EC for radiated emissions and conducted immunity for after-market ESA (electronic sub-assemblies)
EN 301 489-1 v1.9.2 EMC compliance for radio equipment – Common technical requirements [EN 55022: 2006 A1 Class B, EN 61000-4-2 2009, EN 61000-4-3 2006 A1, A2, ISO7637-2: 2004]
EN 301 489-7 v1.3.1 EMC compliance for radio equipment – Specific to portable GSM & DCS devices
EN 301 489-3 v1.6.1 EMC compliance for radio equipment – Technical requirements for SRD
Environmental
Operating: -30°C to + 80°C
Storage: -40°C to + 85°C
Humidity: 0 – 95% RH, non-condensing
Housing: UL 94 V0 flame retardant plastic
Power
Voltage: 7v to 36v
Current: < 25mA at 12V operating, < 30mA average current consumption, < 1mA in standby at 12V
Inputs
Ignition sense (see also note concerning 2-wire installation)
Digital inputs x 3
1-wire interface for i-Button driver identification tag and remote temperature monitoring.
2-wire Installation – the TCSV incorporates an alternator voltage sense circuit with 4 preset thresholds which automatically detect the engine running in either a 12V or 24V vehicle systems without the need to connect an ignition sense.
Accelerometer – a tri-axis accelerometer (Freescale MMA8451Q) provides crash and acceleration monitoring with 14bit resolution (between +/- 8g) and sampling rate of 100Hz , together with movement detection during standby state.
GPS – Standard NMEA GPS data with fast time-to-first fix (TTFF). 10Hz data and +/- 2.5m accuracy.
Sounder – an optional sounder/buzzer may be fitted as a driver ID alert. Over-the-Air (OTA) Support – firmware / features upgradable over the air plus command and configuration using SMS or GPRS.
Technical specifications – firmware
The firmware is embedded in an ST Micro 32bit ARM M3 Cortex microcontroller with 256kByte Flash / 64kByte SRAM and 4MByte of external EEPROM for trip data storage. It provides the following features:
Real-time tracking based on 1s event monitoring (100ms GPS sampling) and 30s updates
Storage capacity for 500 trip events
Crash detection "black-box" function with high resolution pre- & post-crash data capture and storage for 50 crash events
Acceleration/ driver monitoring using GPS and accelerometer
Full communications redundancy with remote IP addresses
Tamper and theft detection:

Vehicle battery disconnection
Movement without engine running

Robust M2M SIM
DATA, GPS status LEDs