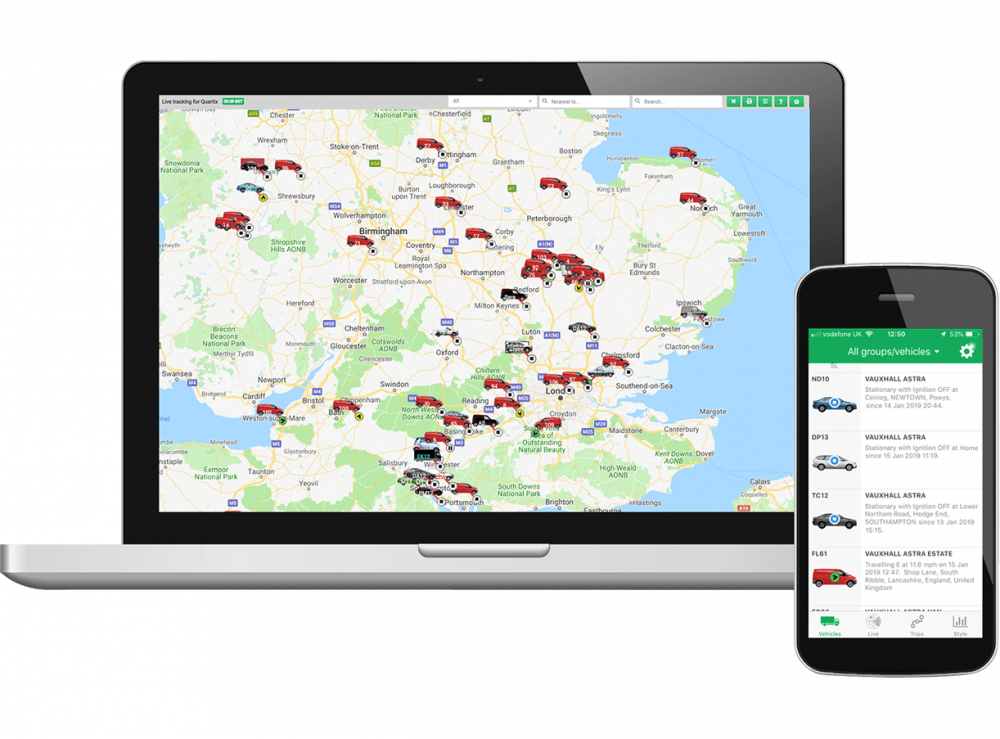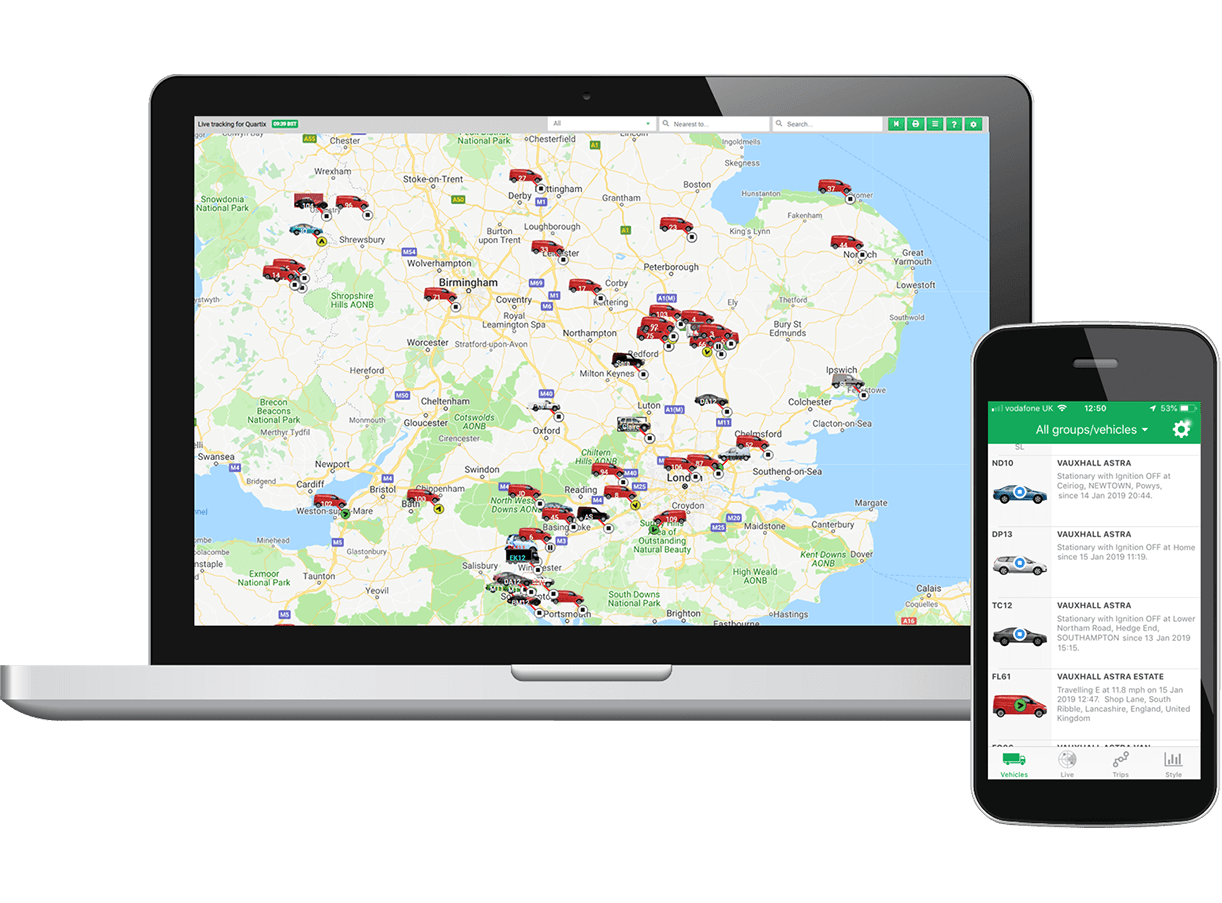 When considering vehicle tracking, business owners and fleet managers are often torn between the desire to achieve substantial cost savings and productivity improvements on the one hand, and the fear of being considered to be using a heavy-handed 'big-brother' approach to people management on the other.
In a series of articles to be published in this blog I will look at both aspects – discussing not only the potential for financial gain, but also considering ways in which implementation and contractual issues can be dealt with effectively, with practical examples. Given the competitive environment in which most companies with mobile employees operate, it is difficult to ignore the potential for financial savings – which are usually considerable. Here are a few examples of how a vehicle tracking system can be used to maximise the effectiveness of a fleet:
Increasing capacity
Whether the system is to be used for sales cars, delivery vans or site service vehicles, by far the biggest boost comes from maximising the productivity of the workforce. Users typically find that more can be achieved by existing employees at the beginning and end of each day. For example an extra site visit within contracted hours at the end of the day could result in an additional invoice being raised without additional cost or overtime. Capacity improvements of between 10% and 20% are often realised just by being able to locate the nearest employee to a job in real time.
Monitoring overtime
Ensuring that working hours and attendance at site are accurately recorded has a major impact on wage costs, especially for staff travelling directly to site from home. Just a 15-minute error on an employee's start and finish times could be costing £2,000 or more per year. Using telematics to help automate the control of timesheets can eliminate this loss.
Managing private mileage and unauthorised usage
There are two aspects here. The first is the need to monitor whether the vehicle is used for private journeys and, if so, whether this is within permitted limits: some companies have reported fuel savings of up to 100 litres per vehicle per month just by cutting out unauthorised usage. The second issue is the need to record business mileage accurately for tax purposes: approximate or incomplete records that show business trips rounded to the nearest 10 miles will not suffice for HMRC inspection – and could lead to a penalty.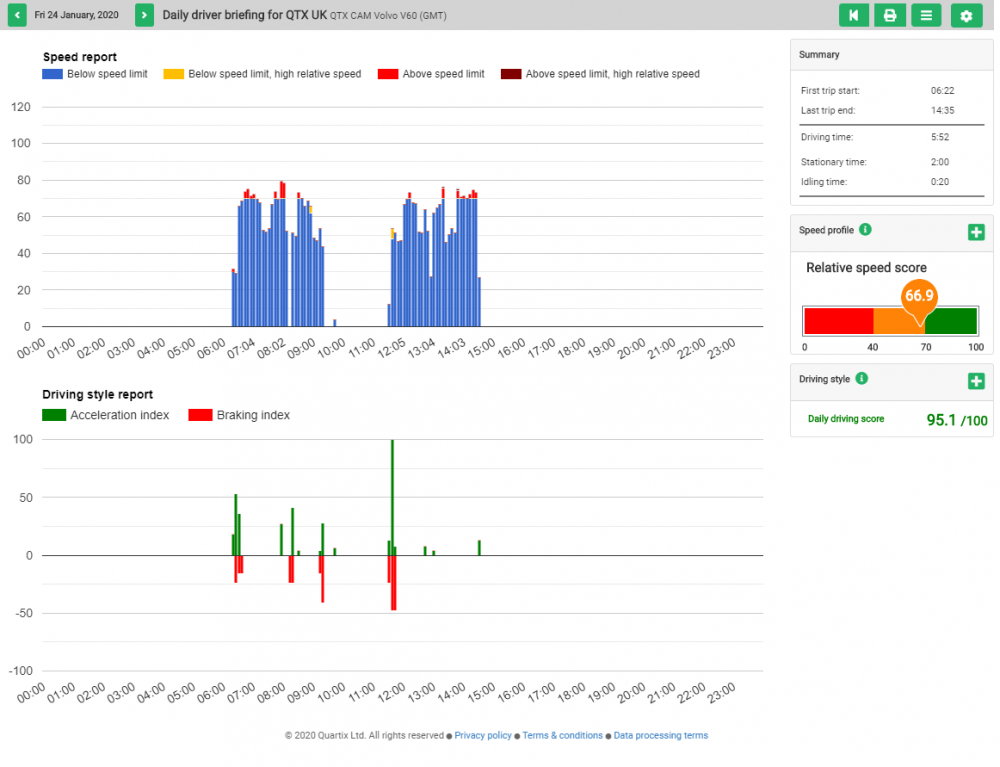 Monitoring driving style: saving fuel and reducing risk
There are multiple benefits associated with monitoring driving styles:  fuel costs can be cut, wear and tear on brake and suspension components can be minimised, and the risk of accident can be significantly reduced.
The key criteria which are recorded to achieve this include speeding, acceleration and braking. By measuring these, and comparing them with data from other fleet drivers and road users, a league table of drivers is used in assessing driver training needs.
Duty of care and working time issues
Every employer has a responsibility to show that employees are not being driven too hard – both in terms of the hours that they work and the amount of time that they spend on the road each day. Automated timesheet reports delivered in Microsoft Excel or other standard formats are the ideal way of monitoring and recording this. In addition to these, route and vehicle usage reports can identify if workers are driving dangerously or speeding in order to get to appointments on time.
A vehicle tracking system with real-time capability is not, however, just a tool for managing the workforce. It can be invaluable in delivering excellent service to clients as well as in proving that arrival times have been met and that contract costs are fully justified.
Meeting key performance indicators
Major public and private service contracts usually contain key performance indicators or service level agreements that are to be respected. A vehicle tracking system is the ideal tool for selecting the nearest vehicle to a service request – which can make the difference between meeting a contractual requirement and missing it. The daily vehicle log reports can then back that up by providing proof to the customer that the deadline was met. Where the client is responsible for a delay, either in making the employee wait before gaining access to site or being able to make a delivery, the tracking system can provide accurate justification for claims for additional costs.
Better job costing
Use of the tracking system to monitor the time spent at each job provides better estimates and more accurate quotations for future bids, which can lead to higher bid success rates and profitability.
The savings and profit improvement to be expected from introducing a vehicle tracking system may seem too good to be true, and they could be if it's not implemented properly. Respecting employees' rights and privacy, and maintaining their motivation throughout are obviously key – as well as keeping within the law.
The rest of these articles will look at how to avoid the potential pitfalls, and will include a practical case study of the introduction of vehicle tracking within a large fleet. We will also publish a cost-savings calculator, for use in assessing the financial benefits for your organisation.
Andy Walters founded Quartix in 2001 with three colleagues. All four founders are still associated with the company, which now has more than 6,000 fleet clients and operations in the UK, France and USA. Quartix has also carried out more than 70,000 installations for telematics-based insurance policies. Prior to Quartix, Andy held senior positions in technology and communications businesses within Schlumberger and Spectris.