The Quartix van tracking system shows you where your vans are, 24/7. The system's wide range of van tracking reports offer valuable insights to help you reduce the costs of fleet operations and improve productivity, whether you have just 1 van or 500.
Businesses use van tracking technology to maximise their vans' fuel consumption, monitor driver behaviour and automate driver timesheets using journey start and finish times – the benefits really are abundant. We'll take a look at why businesses use van tracking and how it works in more detail below.
How does van tracking work?
Our van tracking device is simply fitted into the vehicles and within minutes your fleet will be closely tracked via GPS within the Quartix system. Using the live tracking maps, you can follow your vans' movements in real-time and the system will log daily fleet activity for you to review. No additional software is necessary to use the Quartix van tracking system; everything is accessible online – there is even a mobile app for van tracking on the move.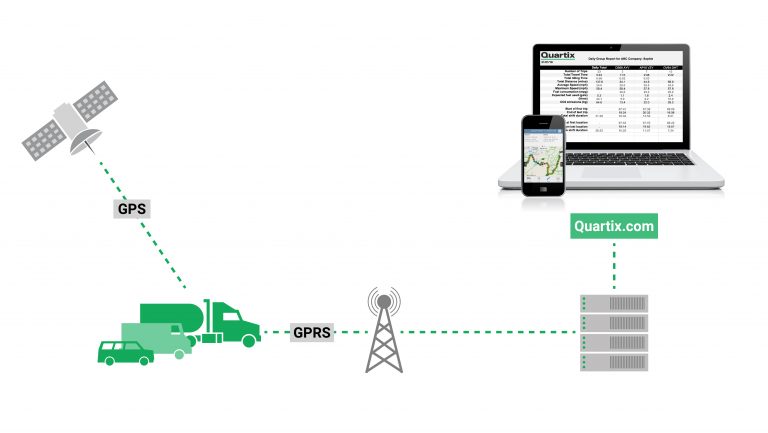 Each van is fitted with our simple-to-install van tracker, enabling second-by-second GPS tracking.
The powerful Quartix software records each van's movements and keeps a detailed log of speed and idling 24/7.
Discover your best drivers and make sense of mileage with our simple reports delivered straight to your inbox.
Quartix arms you with insight to reduce fuel costs, improve driver behaviour and optimise fleet operations.
Why customers choose Quartix
There are many reasons to choose Quartix for your van tracking needs. Our customers cite the following reasons for choosing Quartix:
"Quartix has very helpful staff who respond to queries quickly. The tech support is sufficient and knowledgeable."
Why do businesses track their vans?
Van security and van theft: Company vans can often be a target for theft, as they are likely to contain valuable equipment. Having van tracking installed means that your vans can be recovered easily, and you will be alerted to any unusual movements right away.
Unauthorised van usage: Geofencing alerts notify you of any unauthorised use of your vans at weekends or in the evenings, meaning you can keep a close eye on the van's mileage as well as sanctioning company vehicle use.
Protection of van drivers: Your drivers and your company may face accusations from time to time, from clients disputing work that was completed or perhaps regarding a traffic collision. Van tracking can provide solid evidence to protect you and your drivers if this situation arises. Quartix offers a dashcam integration that stores footage in the cloud, covering your drivers even further.
Safety on the road: Quartix van tracking helps you stay compliant with van safety checks, to monitor your drivers' whereabouts and locate them in the case of an emergency, and to encourage safe driving behaviour.
Meeting daily targets: Some businesses need their vans to make a certain number of deliveries or visits during the day and it can be hard to regulate those numbers. Van tracking dashboards can be set up to alert you if your daily target isn't met by a certain time of the day, turning your attention to the group or individual that is underperforming right away.
Taking care of the vans: A good van tracking system lets you plan for vehicle down-time and set maintenance date reminders, so that your vans are always looked after. Driver behaviour reports also let you correct driving styles that are detrimental to the van health, nipping any bad habits in the bud before your vans start to suffer the consequence. See our Eco-Driving guide for some useful tips!
What are the key benefits of van tracking?
Van tracking offers businesses a whole host of benefits, that support all areas of the company operations. Some of the advantages are seen out on the road with the drivers, some are monetary savings, and some benefits are apparent in the level of service a company can provide.
We group the benefits of van tracking into the following areas:
"The fuel savings we've seen in the past year alone have more than paid for the system."
"Quartix vehicle tracking lets you take control of your fleet, improve operational efficiency and manage costs, safety and time."
Your van tracking FAQs answered