Many of our vital supplies are transported in refrigerated vehicles. From food that needs to be kept at a certain temperature to stay safe for consumption, to medicines such as the COVID-19 vaccine, where maintaining a constant temperature is critical to its ability to function.
Transport suppliers must guarantee that foods or medicines have been kept at a proper temperature and be able to prove it to the customer. Quartix vehicle tracking can help. Using the same technology that makes vehicle tracking possible, our temperature monitoring alerts keep you informed of temperature changes that could seriously affect goods and products.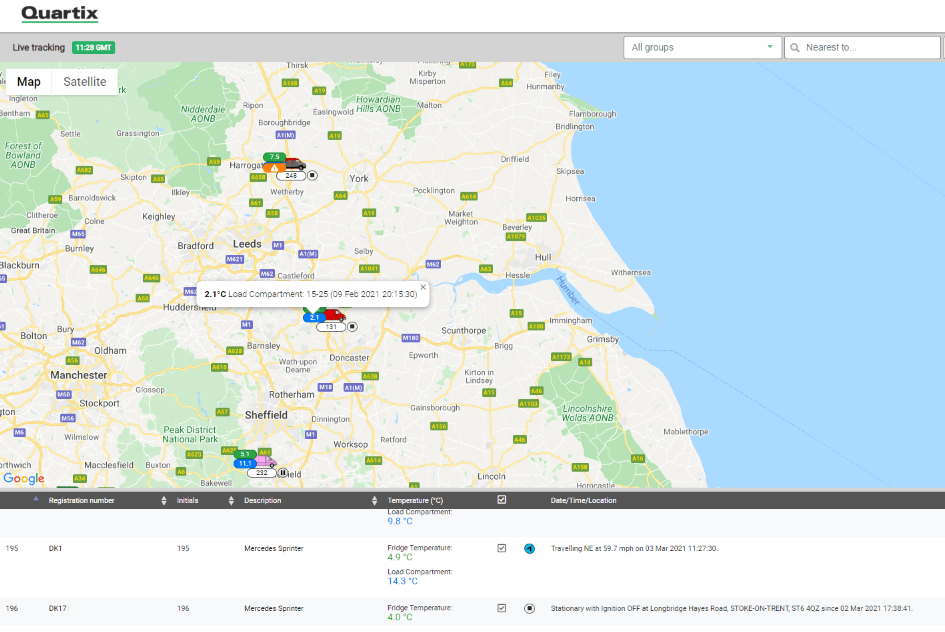 How does vehicle temperature monitoring work?
Vehicle tracking systems that offer temperature monitoring usually use temperature probes that are mounted on a climate-controlled vehicle's chiller units. These probes are connected to the vehicle tracking system and continuously monitor conditions, taking readings at regular intervals. The Quartix system reports temperatures every two minutes when the vehicle is in use and every 15 minutes when it is not in use. Whenever the ignition is turned off, the temperature is also recorded.
Temperature readings are transmitted from the probes to the vehicle tracking device which sends the data via GPRS to the vehicle tracking system, together with other readings such as speed, acceleration and braking patterns and location information. In the Quartix system, this data is accessed either through a temperature monitoring report or at a glance on the live tracking screen.
If a temperature probe registers consecutive readings that are out of the specified range, you will receive an alert so you can investigate and fix the problem before any goods are damaged. For fleets with climate-controlled vehicles, this level of control can be the difference between a good delivery or a ruined shipment.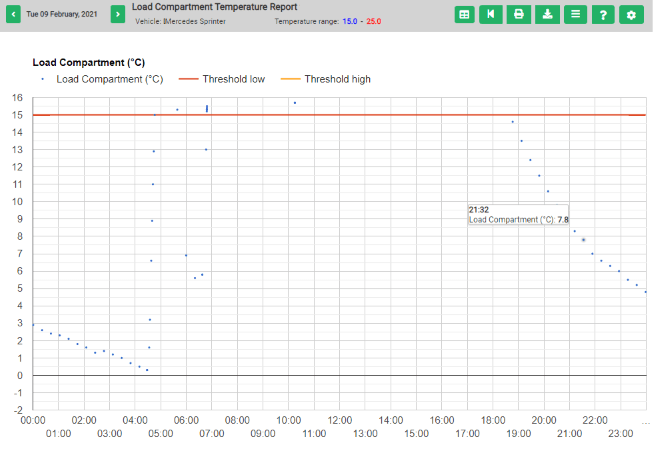 Co-ordinating high-quality food distribution
Logistics and distribution are key to Reynolds Catering Supplies, a leading fresh food supplier to the UK food service industry. To maintain its competitive edge, Reynolds makes consistent investments into its fleet and operational efficiency. Reynolds' success has been compounded by the capabilities of Quartix vehicle tracking, a pivotal tool the business has employed since 2011.
Reynolds' Head of Fleet Support, Steve White, explains, "We looked for ease of use, best price point and wide-ranging capabilities. From an operational perspective, live tracking has enabled us to manage delivery schedules and the effective re-routing of drivers".
Reynolds' need to monitor the temperatures of their climate-controlled vehicles was easily catered for with Quartix Temperature Monitoring. Two probes per vehicle alert Reynolds to variances of just 0.5° C outside a custom temperature range, triggering an email to warn staff of potential product loss. Prior to the implementation of this technology, checks were performed manually by drivers, a process that was time-consuming and prone to error.
Steve explains, "The Quartix tracking system gives us a full chill-chain audit, whereby we can verify the status of the load at any time. This has resulted in less wastage, improved customer service and helps document compliance with Food Safety and Hygiene Regulations".
Ensuring regulatory compliance
As the UK's largest veterinary wholesaler, National Veterinary Services Ltd (NVSL) provides veterinary surgeons with a wide variety of goods, including temperature-controlled items such as medicines, vaccines, and animal foodstuffs.
To ensure regulatory compliance and deliver top-quality products to their customers on a next-day service, NVSL found themselves in the market for a reliable, efficient, and cost-friendly way to monitor the temperatures in their fleet of over 150 vehicles in real-time. Being long-time customers of Quartix Vehicle Tracking, they didn't have to look very far.
"Quartix vehicle tracking allows us to monitor the fleet effectively, ensuring the load compartments and fridges remain temperature compliant. When our customers receive their orders, they can be confident that the goods have been transported under correct conditions", says Fleet Manager, Phil Bate.
To find out how Quartix temperature monitoring could benefit your fleet, contact us today.