There are an estimated 33 million vehicles on the UK roads. Quartix has installed tracking units in over 600,000 vehicles over the past twenty years. And there are many other vehicle tracking companies in operation. Although it's difficult to give a figure, it's safe to say that millions of vehicles in the UK are currently being tracked, either for business or insurance purposes.
Every year, vehicle tracking technology advances further, and the ability to monitor vehicles becomes more accurate and precise. But these advancements also come with legal responsibilities for business owners and fleet managers. Anyone who tracks a vehicle or an employee for business purposes must ask themselves:
Why am I tracking the vehicles?
What do I need to tell my employees?
How should I handle all the vehicle tracking data?
But what exactly does UK law say about vehicle tracking? What are the legal rights and limitations? And how do you protect your drivers' privacy while ensuring your fleet vehicles are safe?
In this article, we'll look at the laws that apply to vehicle and driver monitoring and explain how you can be compliant while employing vehicle tracking.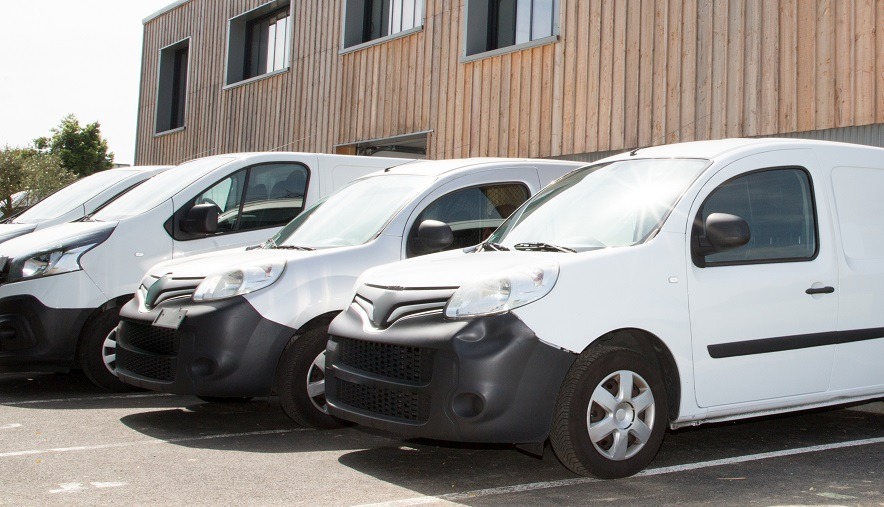 Which laws impact vehicle tracking?
Vehicle tracking data falls under the larger umbrella of the Data Protection Act, which is the UK's enactment of the European Union's General Data Protection Regulation or GDPR. Since the UK has left the EU, it is now referred to as UK GDPR, but still sets out regulations, obligations and key principles for the processing of personal data.
But there are also health and safety guidelines, such as the Health and Safety at Work Act, backed by the Human Rights Act of 1998, that should shape how you collect and process vehicle tracking data, and what expectations your drivers should have about their private data.
Guides prepared by organisations like Unite the Union help define your responsibilities in greater detail, but the bottom line is that there are rules about tracking your employees and storing their data, and there could be consequences if you do not follow them.
What is legal under UK law when it comes to vehicle tracking?
There are a few important questions to ask when you are establishing whether your tracking needs are within the confines of the law.
Why do I want to track my vehicles?
Am I only tracking what I need to?
What is my plan for keeping personal data safe?
The first two questions deal with determining your lawful basis for processing. Simply put, this means that your reasons for tracking must be legally valid and documented before you begin.
The UK GDPR sets out a few lawful bases, but most vehicle tracking for business purposes will be covered by legitimate interest. That is to say, because a business' vehicles are their own property, and/or used for business purposes where the company will be paying for fuel, insurance and ongoing maintenance, they have a legitimate interest in ensuring that those vehicles are tracked and driven safely.
However, some companies let drivers use their own vehicles for business purposes or they allow employees to use company vehicles out of hours. This chart can help explain what the lawful basis for vehicle tracking could be and what sort of restrictions could apply.

What can you do to make sure you are tracking legally?
Following data privacy guidelines is the best way to be compliant with UK law.
You should also have a clearly defined company tracking policy to make sure you are tracking legally and that your employees know their rights.
The UK GDPR gives individuals the right to object to the processing of their personal data where legitimate interest is the lawful basis of processing. Therefore, you must not only ensure your drivers know that vehicles they are driving are being tracked, but also inform them that they have the right to object. They will need to provide specific reasons for an objection which will then need to be considered against the reasons for tracking and balanced with the interests, rights and freedoms of the individual. Read more about the right to object here.
You must also consider how you handle and store the vehicle tracking data you receive from your trackers. UK GDPR contains guidelines data storage such as how long you can store private information for your drivers and what to do if your data is leaked or stolen.
How can Quartix vehicle tracking help?
Many vehicle tracking companies, Quartix included, have built-in features than can help you ensure you are complaint with whichever laws apply to your vehicle tracking situation. With the Quartix vehicle tracking system, you have access to:
Privacy controls – You can set multiple periods of time when your vehicles are not being tracked, to protect your driver's privacy.
Driver controls – GDPR guidelines state that if a driver uses a company vehicle in a private capacity, they must be given the ability to disable vehicle tracking. Our privacy app allows for this.
Defining monitoring hours – Another aspect of privacy controls, these hours can be set up according to your business needs. You can establish different monitoring hours for weekdays and weekends, or have different settings for every day of the week, if necessary.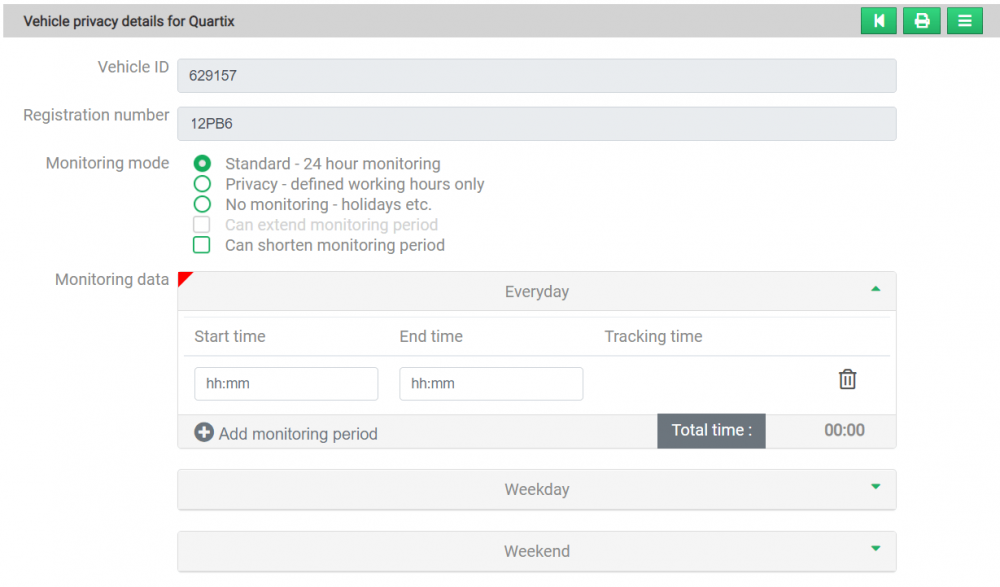 Because Quartix collects vehicle and driver data and makes it available to you through reports, logs and timesheets, that data is stored on Quartix's servers. Therefore, that data is subject to the same rules and regulations that protect yours and your drivers' privacy.
In accordance with the UK GDPR, data for our UK customers is stored for seven years by default, but there are options to set a shorter storage time. Only the previous 12 months of data is immediately accessible on the system, however. After a year, the data can only be accessed by request.
Whether you are preparing to track your vehicles for the first time or are just looking make sure you are compliant, it always best to read to the UK GDPR and the Health and Safety at Work Act. Knowing exactly what is expected of you as an owner or fleet manager, as well as what your rights are is the best way to ensure you are following the law.