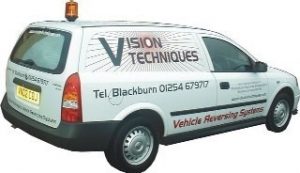 The level of support from Quartix has been outstanding.
Vehicle tracking cost savings
Vision Techniques know about vehicles. They are recognised as the UK leaders in the supply of mobile CCTV and vehicle reversing safety aids, meeting the needs of a wide range of industries.
Since they specialise in "fit and forget" reliability themselves, they chose their vehicle tracking system with great care.
The firm now has the Quartix System installed in their fleet of service support vehicles, as Richard Dunn, Service Manager, explains: "The level of support from Quartix has been outstanding. Their tracking system has provided us with cost savings in overtime payments from day one, and we have steadily added more units over the past year. It has also helped us run our field support team more effectively."