In the ever-evolving realm of fleet management, there's no substitute for the wisdom gained through experience. We bring you an exclusive conversation with Paul Mullins, National Transport Manager at FullFibre, in the second episode of The Fleet Insider podcast. Paul offers invaluable insights and anecdotes, and provides a deeper understanding of his profession.
Subscribe to The Fleet Insider to hear more discussions with fleet professionals.
The Fleet Insider, episode 2: Paul Mullins, National Transport Manager at FullFibre
As National Transport Manager, Paul Mullins plays a vital role in ensuring smooth transportation of critical infrastructure components for FullFibre's expansion efforts. Paul's strategic vision and hands-on leadership contribute to creating a seamless and robust network across the country.
Paul has extensive experience in defence logistics as a civil servant. He received training in warehouse and distribution management, gaining first-hand insight into the crucial role of road haulage and the profound impact a single individual can have on the global supply chain from a warehouse. Motivated by a desire to explore the applicability of his skills across different industries and learn about alternative approaches, he sought opportunities with renowned companies such as DHL, and working with dangerous goods and construction materials.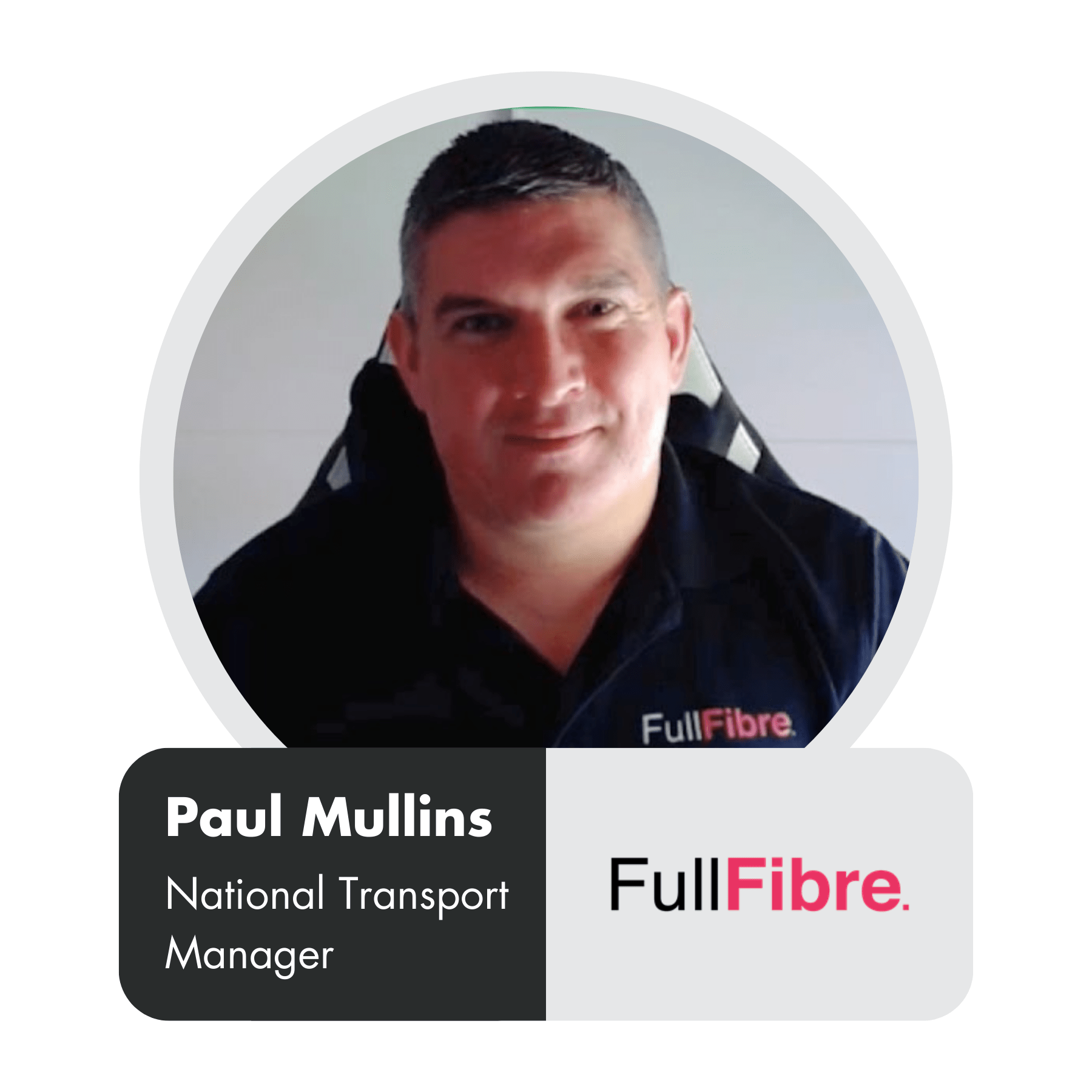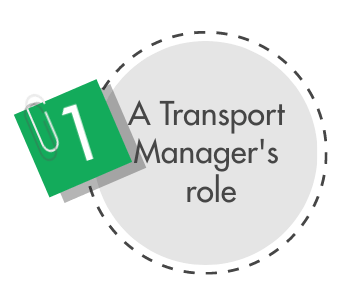 Distinguishing the roles: Transport Manager vs. Fleet Manager
It's a topic that often leads to spirited debates among industry professionals, and we were quick to dive into the distinctions between a Transport Manager and a Fleet Manager. As Paul explains, Transport Managers hold an Operator's Licence and are laser-focused on ensuring the seamless flow of goods, drivers and vehicles, with an emphasis on operational efficiency and fleet compliance. In contrast, Fleet Managers tend to shoulder more generic responsibilities, often encompassing strategic planning alongside day-to-day fleet operations.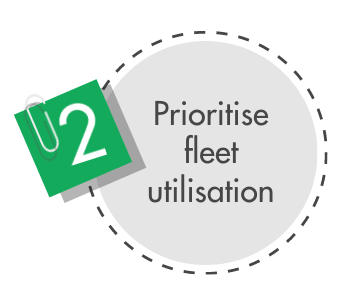 The first stop: Vehicle utilisation
As many can attest, stepping into the role of a Transport Manager invariably requires a comprehensive evaluation of vehicle utilisation. Paul imparts a critical lesson: efficient vehicle utilisation is the bedrock of cost-effective fleet management. Regardless of whether you're managing Heavy Goods Vehicles (HGV) or Light Commercial Vehicles (LCV), this is the best place to start.
Transport Managers often have the responsibility of downsizing a fleet, ensuring that ground teams have all the necessary resources and that vehicles meet the required specifications. Engaging with drivers and providing them with support is vital, and the safety of teams is crucial when carrying out work at heights, working late into the evenings or using dangerous equipment. Addressing these diverse needs while adhering to budget constraints is a key challenge.
Since Paul joined FullFibre, his primary objective has been fleet reduction. A strong background in HGV operations has equipped him with effective planning strategies – upon joining the company, Paul immediately assessed the fleet on paper using these methods. He now oversees a fleet of 95 vehicles, a deliberate reduction in fleet size. Like many large companies, surplus vehicles were previously acquired, and the appointment of a Transport Manager, such as Paul, is intended to optimise costs, gradually streamline the fleet, and ultimately save money.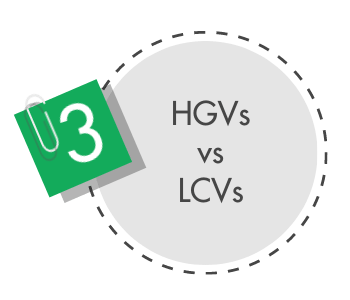 The complex world of HGV and LCV fleet management
Paul's extensive experience has exposed him to the unique challenges presented by both HGV and LCV fleet management. As HGV fleets entail larger and more complex vehicles, there is a rigorous focus on roadworthiness and driver compliance. LCV fleets, on the other hand, frequently grapple with the complication of private vehicle use, which can significantly affect wear and tear and fleet insurance cover.
"HGV fleets involve a great deal of regulation and everyone in the business is bought into those rules. In the 'van world' people are less sure of the rules, but this is changing with the help of FORS, Van Excellence and Driving for Better Business. You can truly be the subject matter expert working in an LCV fleet, and really make a difference by championing things like road safety."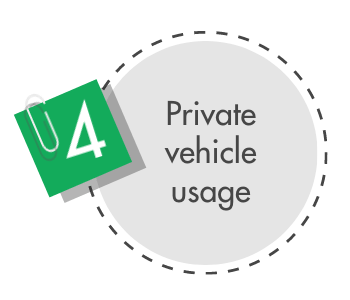 Managing private vehicle use
An issue that is more relevant in the context of LCV fleets, private vehicle use can introduce a whole host of complications related to vehicle maintenance and monitoring. To address these challenges, the implementation of tracking systems and dashcams can be pivotal. Equally important is understanding drivers' reactions to these technologies.
Paul focuses on vehicle utilisation frequencies to tackle concerns related to private mileage. The extent to which vehicles are used privately can significantly impact insurance premiums and upkeep costs. Telematics data, often underestimated, holds immense value as it provides insights into driver behaviour and patterns.
One invaluable feature offered by telematics systems is the ability to set up geofences that monitor and track vehicle movement in specific areas at designated times. These geofences facilitate conversations and provide evidence of vehicle activity, ensuring compliance with company policy.
Telematics systems also enable efficient management and scheduling of vehicle maintenance and services based on mileage or time. This contributes to optimal vehicle performance and extends their lifespan. It's worth noting that maintenance activities may vary depending on vehicle ownership or lease, highlighting the impact of private vehicle use on business operations.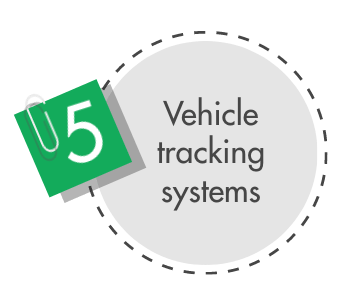 Leveraging your vehicle tracking system
A key takeaway from our conversation with Paul is the significance of vehicle tracking systems. For the last 8 years, Paul worked as a Transport Management Consultant, providing advice to companies on how to improve their fleet operations and optimise departments. He saw a range of vehicle tracking systems being used, sometimes in combination, and was able to recommend the most suitable technology based on specific company requirements and concerns like distracted driving.
By leveraging tracking data, Transport Managers can improve driver scores and maximise vehicle utilisation, ultimately translating to substantial cost savings and operational efficiency. To this end, building good partnerships with telematics suppliers, and learning a system's true capabilities is a strategic move.
"Telematics is absolutely fundamental to what Transport Managers do. We make business decisions for the fleet based on the telematics data. Make sure you get the most out of your tracking system – find out how to use the features. Reach out for help. New Fleet Managers won't always know where to start, but the training is there is you ask for it."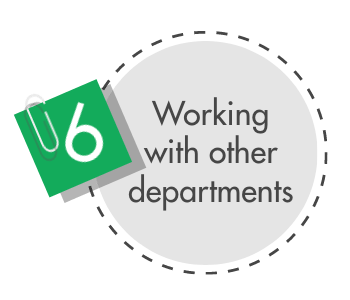 Collaboration with HR and Finance departments
Effective fleet management isn't a solo endeavour. Paul emphasises the importance of fostering close relationships with the HR and finance departments – their expertise is invaluable when it comes to addressing the many challenges inherent in fleet management.
"I advise any new Fleet or Transport Manager to go straight to the HR department and make as many friends as you can, because you'll need their help throughout your career. Transport management involves people management skills, and dealing with unionised environments can sometimes be very tricky to navigate. I had to develop soft skills when I started out. You'll need the Finance department's help too, because without them, your fleet won't go anywhere!"
A glimpse into Paul's unique fleet perspective
Successfully delivering projects that align precisely with the brief.
Unreported vehicle damage tops the list.
Navigating budgetary constraints.
Environmental governance, sustainability, and the battle against driver distractions.
The ever-changing nature of the role, each day brings new challenges and decisions.
Where to listen to the podcast?
To hear more insights and guidance from Paul Mullins and other fleet professionals, head over to our podcast channel and choose your preferred platform to listen. We hope you enjoy this episode and join us for more discussions from a range of industries over the coming months!